I started feeding the BARF diet because of the dogs dying from the kibble recalls of 2007.
It was then that I decided to feed T-Bone the BARF Diet exclusively. I love BARF and the boys love it too!
- Laura A, Rockford, IL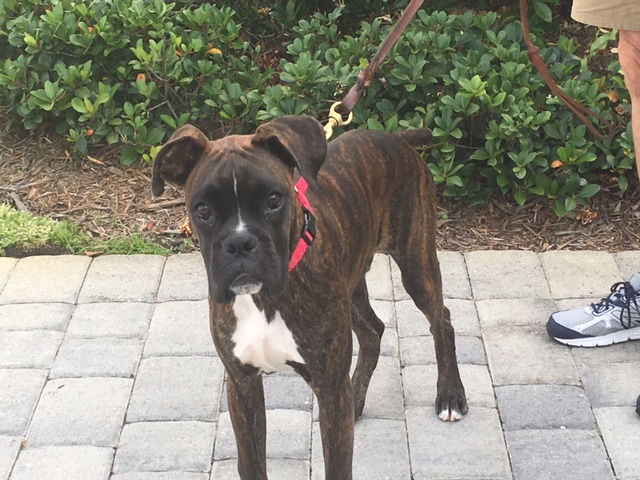 Pago and Sasha's allergy problems are gone.
Pago and Sasha\'s allergy problems are gone. They are the healthiest dogs really and I absolutely attribute that to what they are eating, the BARF Diet. They\'re doing great, even at 10 and 13 years old. We never have to clean their teeth.
- Debby A, Stuart, FL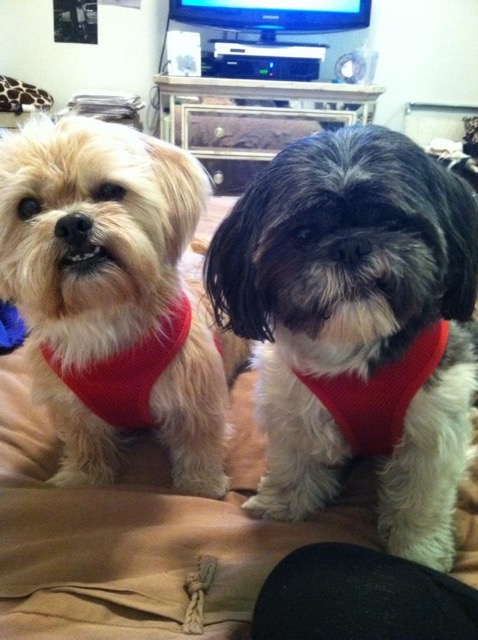 I've been feeding my guys BARF since I adopted them at 2 years of age.
They are around 11 now and still look and act young. I attribute this to the BARF diet! Thanks BARF!
- Lori B, New York, NY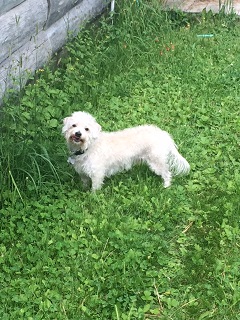 Dear Kellie and BARF team,
I have a wonderful rescue hound named Rudy. He has been the most amazing dog in every respect with the exception of one thing. For quite some time, Rudy has suffered from a body odor problem. It didn't matter how much he was bathed or with what sweet smelling shampoo, Rudy would begin to stink within 24 hours of a bath. At Kellie's urging, I switched Rudy to your lamb and salmon oil BARF diet. We left 3 weeks ago on a vacation with Rudy and his new diet in tow. After being on the diet for about a week not only did Rudy's body odor problem disappear completely, but his coat showed substantial improvement becoming softer and silkier then ever. His energy level has been amazing as well.
- Marilyn B, Yountville, CA
I don't have a Before and After testimony, for comparison, to talk about health improvements I have seen in my dogs.
I don\'t have a Before and After testimony, for comparison, to talk about health improvements I have seen in my dogs. Why? Because I have always fed my dogs the BARF diet, even before the BARF World company was born. I studied all of Dr. Billinghurst\'s books in order to comprise a homemade BARF diet based on his recommendations. Many of my friends and family were in awe that I would put the time in to study the raw approach to preparing a homemade diet...besides, \
- Mary B, Uniontown, PA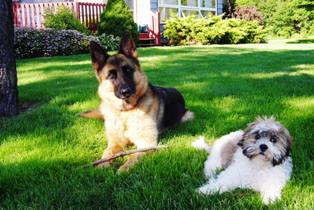 I began using BARF in 2010 and have been extremely happy with the product and the excellent service.
- Lynn B, Arkport, NY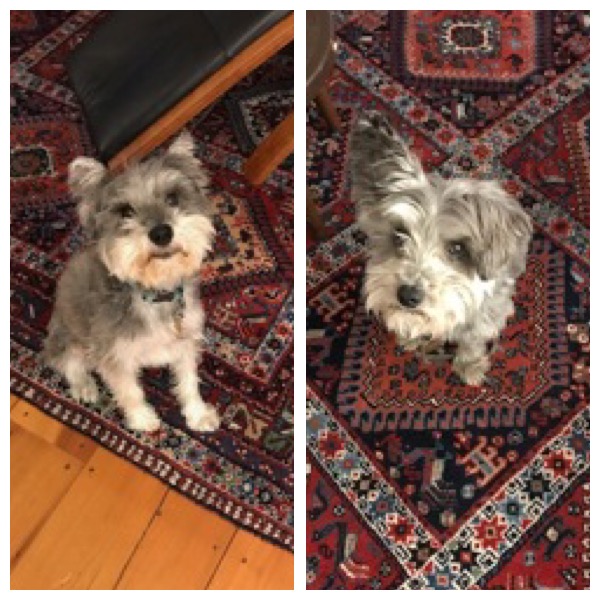 We are very happy clients!
Since changing our dogs to the BARF diet, their weight normalized and they are much more satisfied with their food! Service is excellent, shipping is always on schedule, and communication is a top priority. Thank you BARF World!
- Julie B, Hampton Falls, NH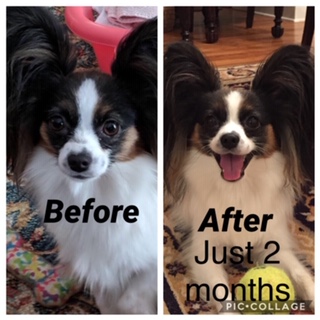 On the left, you'll see before he started the barf diet his eyes have a slight dullness to them and there's a lot of hair loss around his eyes.
They were also very watery. On the right as you can see the hair is growing back around his eyes and they are no longer watering. His coat is ultra super crazy soft. (It was soft to begin with, but this is WOW!) He is a very happy pappie :-)
- Joanie B, Alto, GA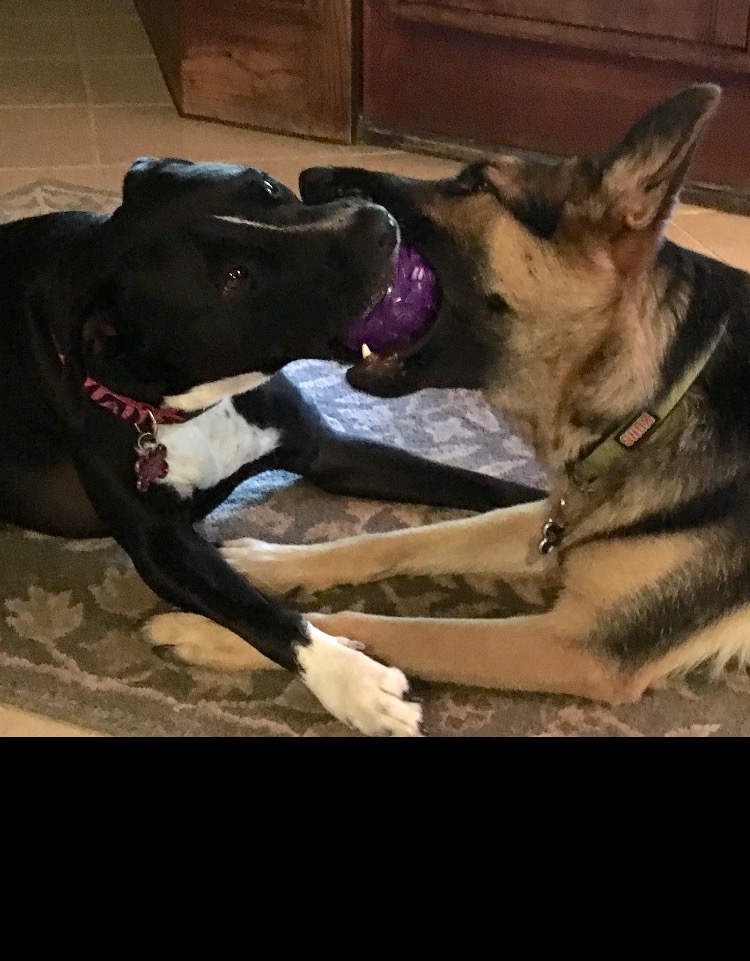 We have been fortunate to adopt these two beauties and BARF helps maintain their beautiful coats and happy healthy lifestyles.
- Deborah B, Frisco, TX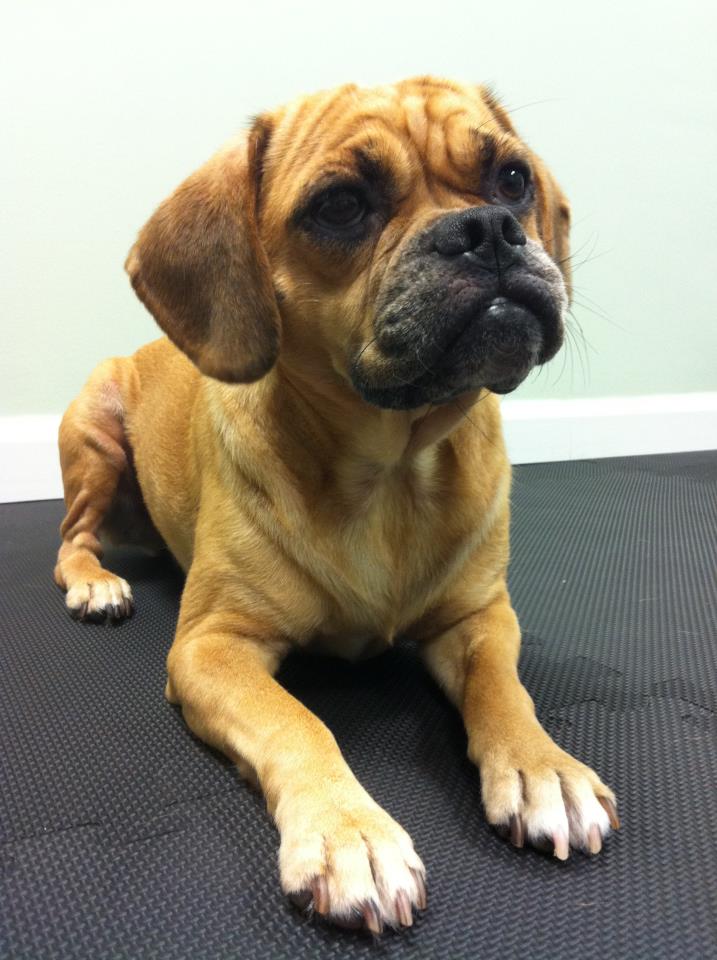 My dog, Serena has had allergies since she was 6 months old (she is now 5).
She has had ear infections, severe skin issues where she scratched until she would bleed, and urinary tract infections from licking. She was at the vet at least once a month - during allergy season, sometimes more. We had her tested for her allergies and gave her shots. The shots seemed to help a little bit, but after 2 years I was not happy with the results. I changed her food, tried different shampoos, skin lotions...etc. She was so used to being on steroids and antibiotics that she would swallow pills with no problem. I hated to give her medications knowing all of the side effects and how they can shorten her life. Serena was so bad one morning, I called the vet asking to give her a steroid shot. Her normal vet was not in and I saw a covering vet who asked if I ever tried a raw diet. I never even thought about it since her kibble was supposed to be the best! The vet suggested I call BARF and give it a try. I had many concerns about the diet: ONE big thing was Serena was not a big eater. Her food could sit for days sometimes and she didn't care - but loved water. We would fill her water bowl at least 5 times a day. She was like this since a puppy! I had her tested for diabetes because she was always thirsty. I called BARF and decided to give it a try. Shipping was very fast. We got our order and I was very excited to start...Serena was not! It took about a week for her to even try it. I would call BARF would talk to Amber and Evan for ways to get her to eat this new food. I was not going to give up and neither were they. Amber and Even would call me and see how Serena was doing. Finally we got Serena to eat the raw diet....and she LOVES it!!! She goes crazy for it (it's gone in about 20 seconds), and even comes to get us for her meals. I will say, 2 weeks into the new diet she became super itchy and I called BARF and they were great explained that some dogs have a lot of toxins in them and this could be the cause. I decided to stick with the diet for the 90 days and am soooo glad I did. Serena looks amazing. She has so much energy, her coat looks great, and she is super happy. We all get sleep now - no itching and no crying for water. Oh and one of the best parts: not only does her skin look better but she hardly drinks any water now!!!! The raw diet has all moisture she needs :) Everyone has noticed how great Serena looks and I recommend anyone who has a dog with allergies to give it a try. I wish I found BARF 4 years ago. They have GREAT customer service and really care about your dog. It is nice knowing I can call up and change my shipping anytime. I cannot THANK BARF World enough - it is like Serena is a new dog :)
- Dawn B, Jacksonville, FL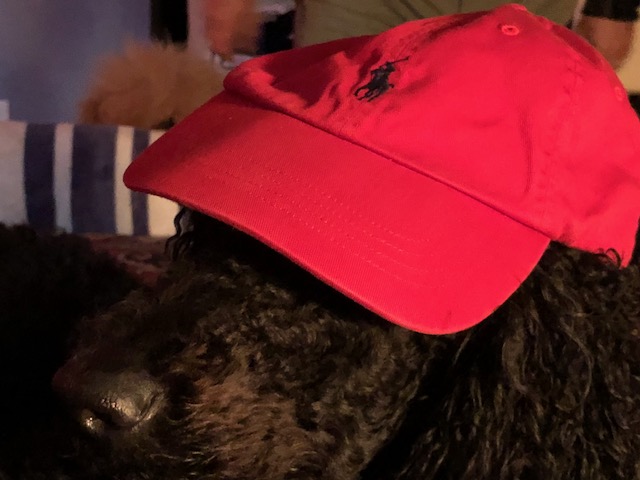 My Standard poodle blackjack has had chronic ear issues for over a year.
After talking to autumn at Barf I decided to only give him raw food. It's been just three months now and there has been tremendous healing in his ears. I had been using a combo of Barf and high end kibble. For him eliminating all kibble was required for healing.
- Marsha B, San Diego, CA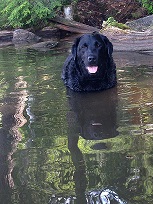 My Black lab Jack
\
- April C, Hamburg, NY
My husband and I have a Potcake rescue from the Turks
- Betsy C, Haymarket, VA
I have the worlds best Shih Tzu (Cirra, 4.5 years old) and she was struggling with allergies ever since she was a puppy.
We put her on limited restriction diets the vet had recommended. She was only eating her dry-food but nothing helped with her allergies. About 2-4 times a year we had to put her on antibiotics to heal her skin and a lot of money. After doing some research on-line I came across raw diets. I started doing the raw food, buying meaty bones, variety of meat, guts and so on. I started seeing results in her but it was getting very hard to get the variety of raw food that she needed and knowing portion sizes, a lot of planning and effort. I then did some more research and found BARF. BARF has made it so much easier to have Cirra on her raw food diet. I know how much to giver her, the order is on auto ship and comes directly to my home, and she LOVES it. She loves all the flavors!

Cirra has been on the BARF diet for 1 month now and she is doing fantastic! Her coat is great and for the first time ever we have been able to grow her coat out. Her allergies are gone, she seems much happier, more alert and affectionate. She does not have to just eat dry-food but she eats food she loves and with enjoyable treats of meaty bones and veggies.

Al was very nice and friendly and answered all my questions. My vet did not recommend that we switch her to raw food but we decided to do it any ways and Al helped us answer any questions we had. Raw food makes so much more sense for any dog, after all that is what they eat in the wild.

- Sabah C, Miami, FL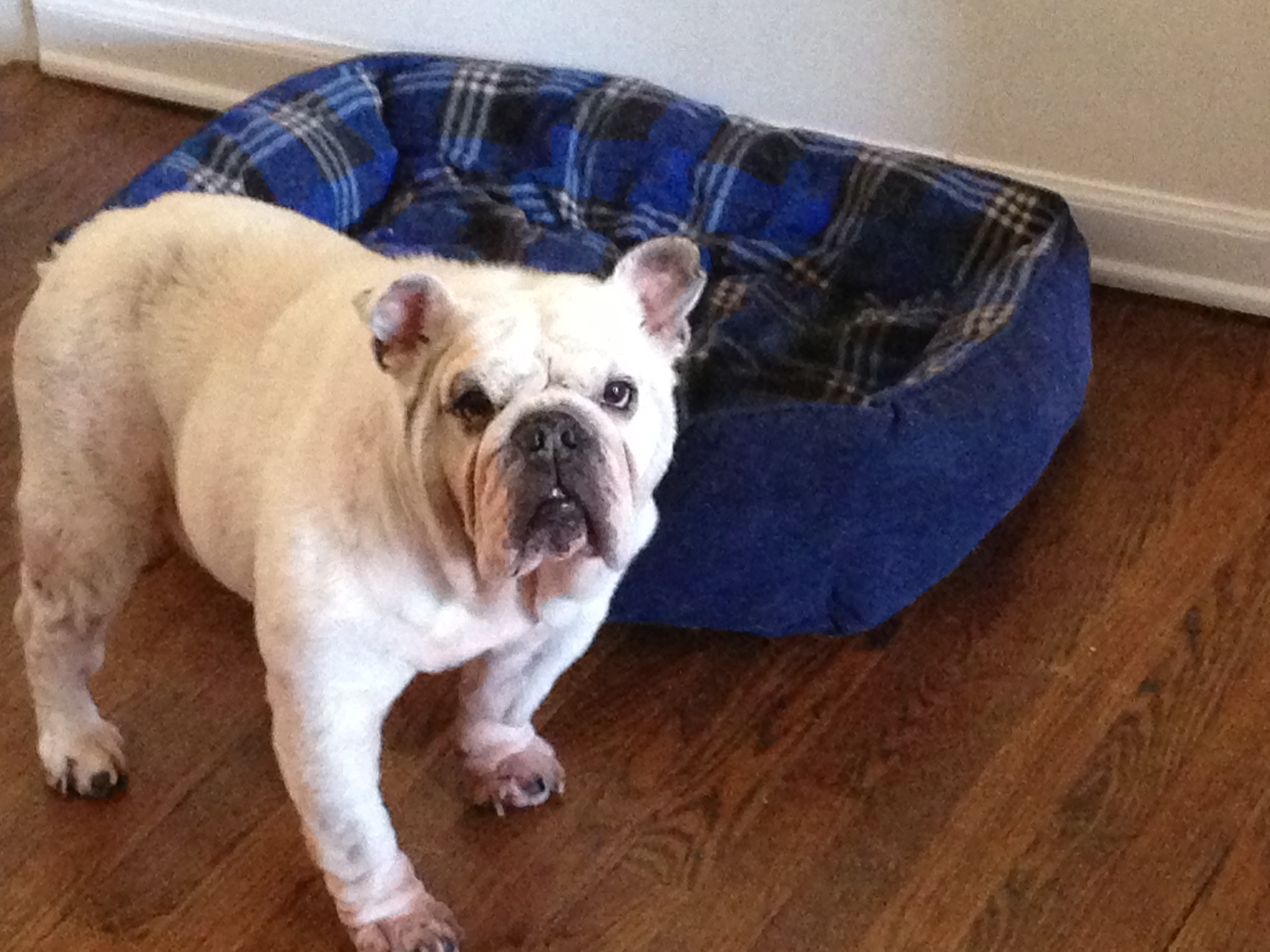 Petunia was rescued with mange and hardly any hair in the winter outside Buffalo, NY.
Her foster family nursed her back to an adoptable state. And I was lucky enough to adopt her in June 2011. I\'ve been feeding her BARF since I got her. My parents have been feeding their Bernese BARF since getting him as a puppy. My dad researched the best food and decided it was BARF so I figured when I got little bundle of love who had suffered so many health problems BARF was the only choice. Needless to say it was the right choice. Petunia loves it and now she\'s as healthy as can be. She has a ton more hair and just is so happy and healthy. I found a great vet who thought BARF was a good choice for Petunia so between BARF and my vet, Petunia is living like a normal happy healthy life. She\'s my baby and I\'d do anything for her so I won\'t feed her anything but BARF. The skin problems and lack of hair are no longer an issue. As you can see from the pictures she\'s so cute, happy, and healthy.
- Christopher C, Wilmington, DE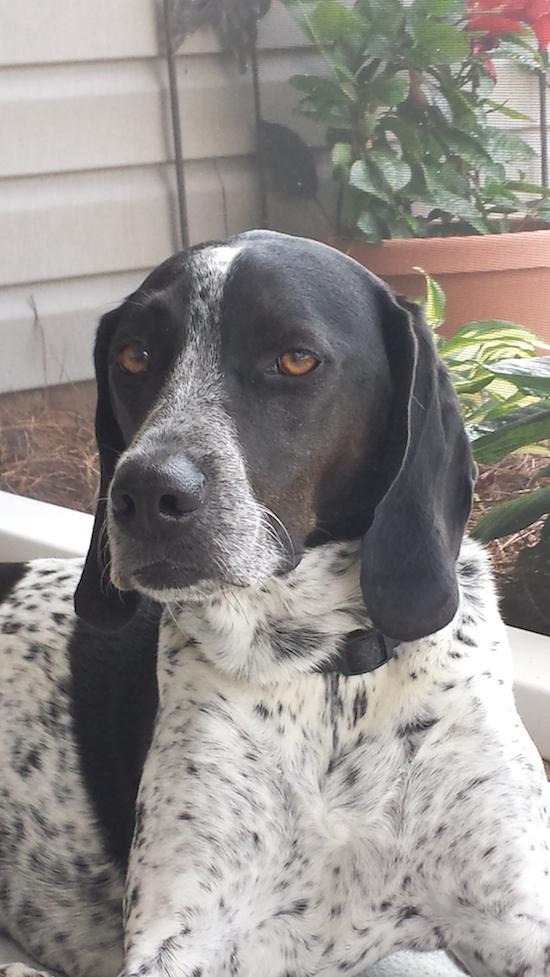 Dolly is our rescue.
She would have mild seizures every 2 weeks or so. After being on BARF for a while, the seizures have been less frequent. We haven\'t had one in 6 months! They are BARFers for life.
- Robin C, Advance, NC
I know what artificial colors and flavors do to humans and what allergic reactions to these types of things can do to people so I began to think, "Why do we think dogs area immune to that stuff"?
I started to look around at what was available at the stores for our pets and was not satisfied. I tried so many different diets before I decided to start making my pets their food myself. After nine months of making my pets food, I was exhausted. They were doing well - but I wasn\'t! So I decided to try the BARF Diet. I\'m so glad that I did! It is so much easier and my dogs are all doing so well. Their stools are firm and they are very healthy.
- Connie Jo C, Lancsaster, CA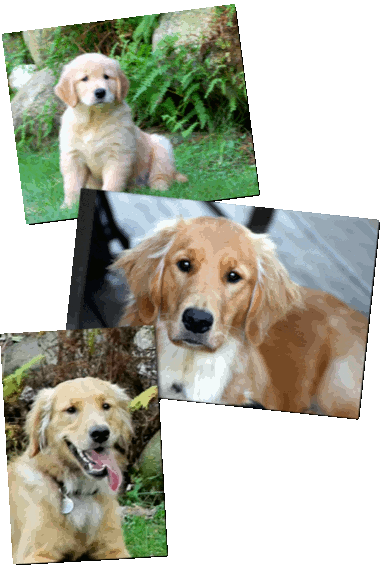 I've had Gemma on the BARF Diet since day one.
I\'ve had Gemma on the BARF Diet since day one. Everyone remarks how shiny her coat is and how wonderful her teeth are. She doesn\'t have that doggie smell and her \
- Paulette D, North Kingstown, RI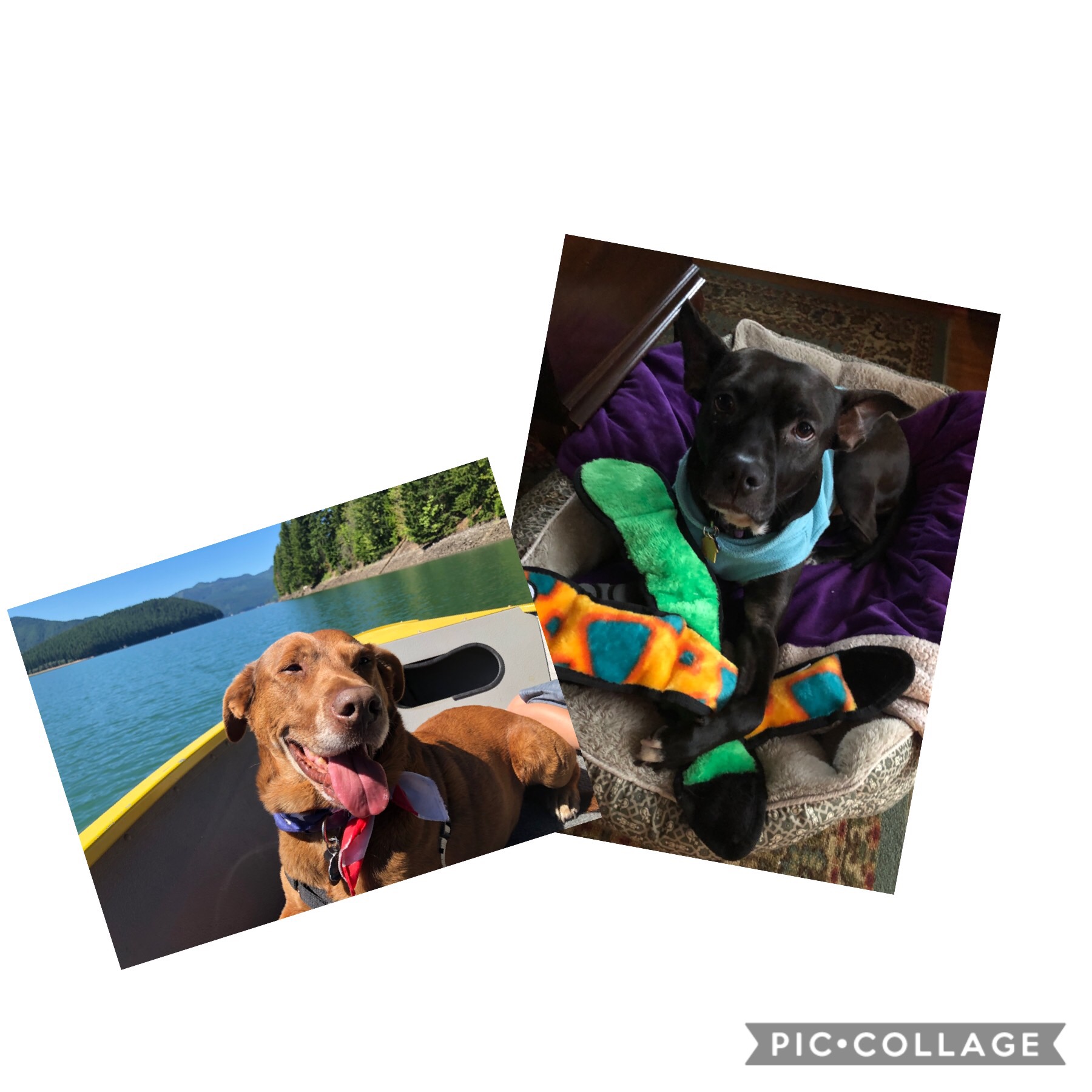 We love BARF and everyone in the BARF Family!
How many years have we been customers? It seems like we've never had anything BUT BARF :)They also have shiny beautiful coats thanks to BARF :)
- Leah D, Portland, OR
My King Spaniel Winston and Havanese Havi have been on the BARF Diet for 3 month's now.
My King Spaniel Winston and Havanese Havi have been on the BARF Diet for 3 month\'s now. They have been doing wonderful. I can give credit to the BARF Diet for the improvement in their skin and coat. I even noticed an Havi\'s dry eyes improve!
- Amy D, Plantation, FL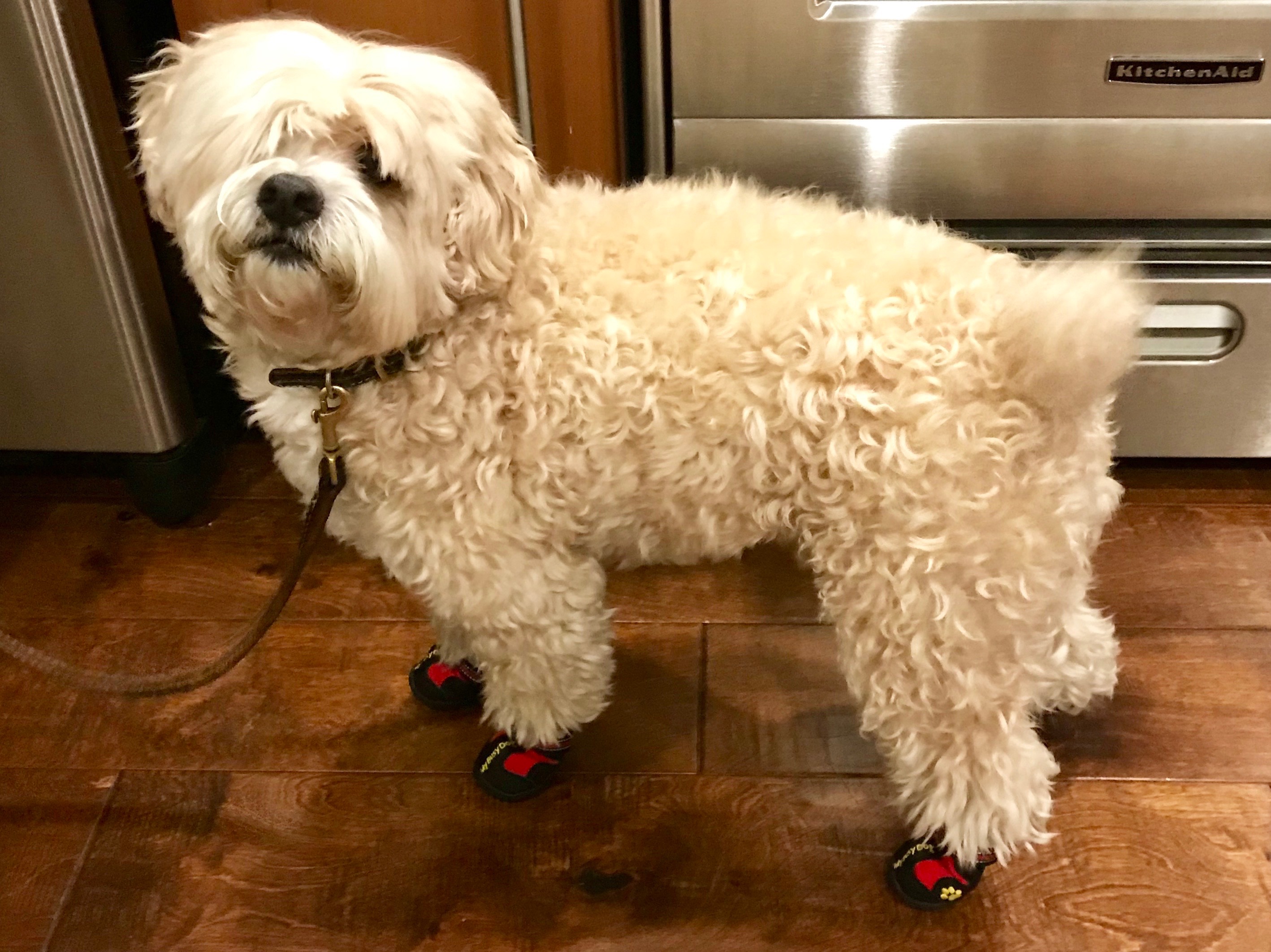 Galileo is our 10.5 year old cockapoo who's had some minor skin sensitivity and stomach issues.
When we switched over to BARF we were looking for something that would help him to transition into his golden years. He's LOVING BARF! He's got more energy than ever, his skin and coat are glowing! We also love the added bonus of having to pick up much less and smaller 'deposits' when we go for our walks. We are so grateful to have BARF as a part of Galileo's health plan!
- Davide D, San Diego, CA
Buddy and Copper have slimmed down; Buddy has not had any seizures in the month since we started and everyone's breath is much better.
Buddy and Copper have slimmed down; Buddy has not had any seizures in the month since we started and everyone\'s breath is much better.
- Richard D, Cooper City, FL
nothing is here
- Susan & Eric D, Oak Harbor, WA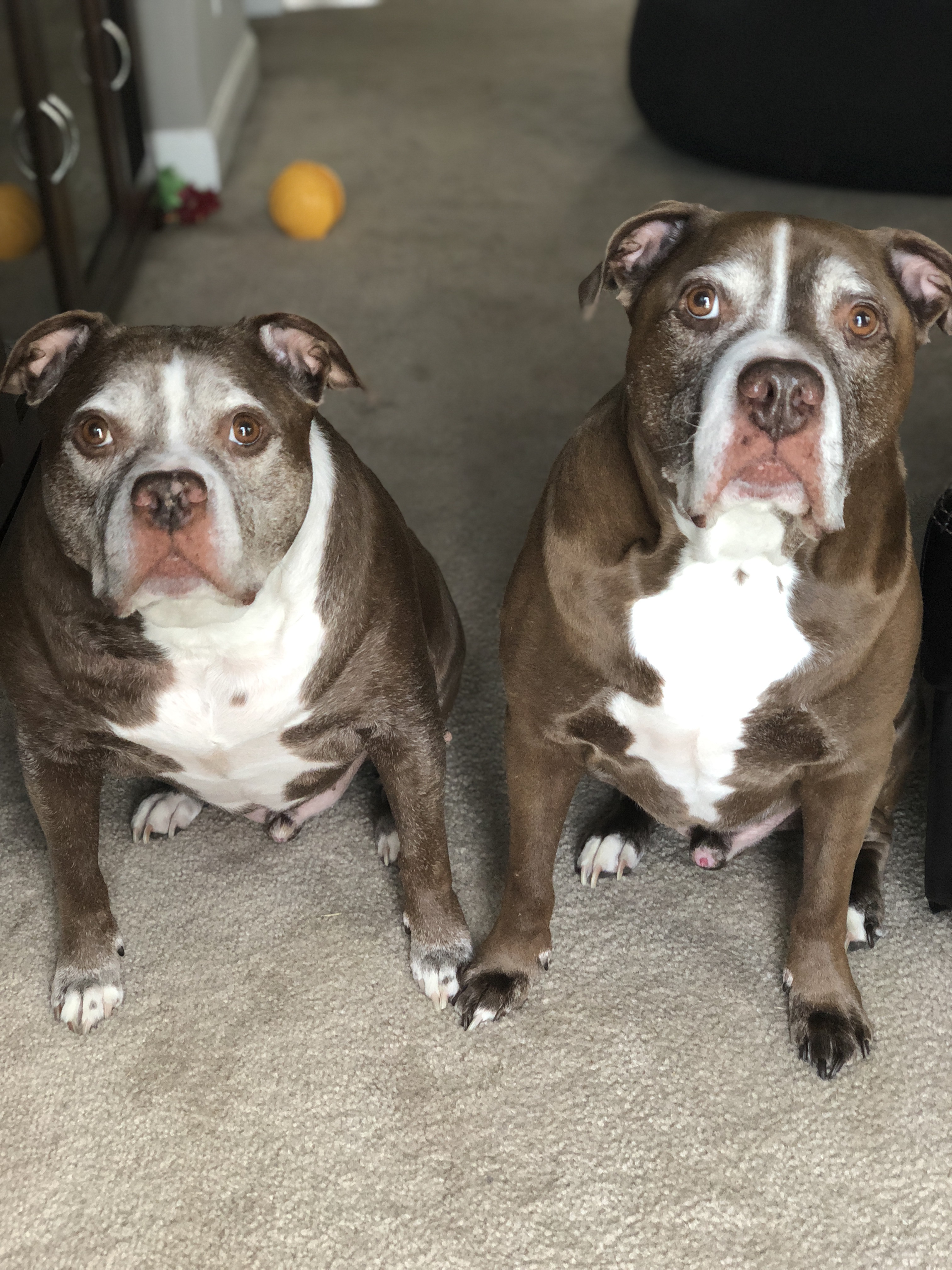 Chubby and Tike are doing great!
They both love meal time now, and poops are small. When we first started them on it we noticed a huge change in Tike. He seemed to get some "puppy energy" back. My husband and I also just feel better and safer about feeding it to them.
- Gregory E, Myrtle Beach, SC
A few years ago we decided to start eating organically, reading every label to make sure we were eating the right things and not all the junk.
Of course this meant that we were also trying to feed our dog the right food. We had searched for a while before we found a food that we thought was a good dog food, we also fed him scraps because we felt that was better than dog food.

I was watching a program Natural Companions and they talked about BARF. I am so very glad that I found this. Now we have found a dog food I like giving to my dog. Our dog loves these patties. He can hear me get them out of the refrigerator and he comes on the run. He loves them so much he even licks the plate clean. His coat glistens and you can almost see your reflection.
Thank you for a great dog food.
- Dianna E, Tribune, KS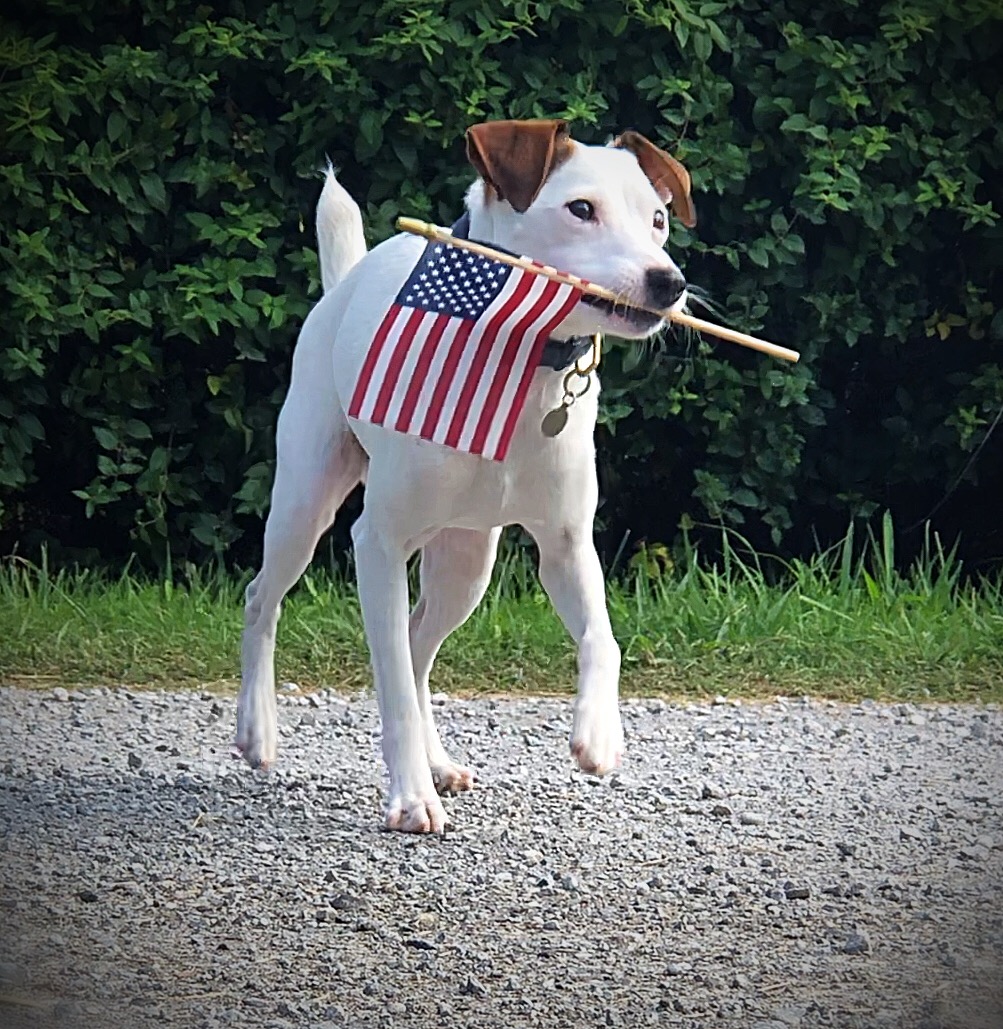 This is Fisher.
He competes regularly in Agility and nosework competitions. We get tons of compliments on how great he looks since he's been on the BARF diet. We have been so happy with how the 2 dogs we tried the diet with have looked and felt that we have now put a third dog on it. The dog we just put on the diet has had inflamed eyes since we have had her (she was a rescue several years ago). In the two weeks that she's been on the diet we have noticed the whites of her eyes are white and not red! We highly recommend this food! The customer service has been great as well, super friendly and fast delivery !
- Julie F, Inola, OK
With the AutoBARF Gold automatic shipping program, my Golden retriever Sam's food comes exactly when it needs to come.
With the AutoBARF Gold automatic shipping program, my Golden retriever Sam\'s food comes exactly when it needs to come. The BARF Diet patties are so easy to feed and he absolutely loves it!
- Chris F, Williamsburg, VA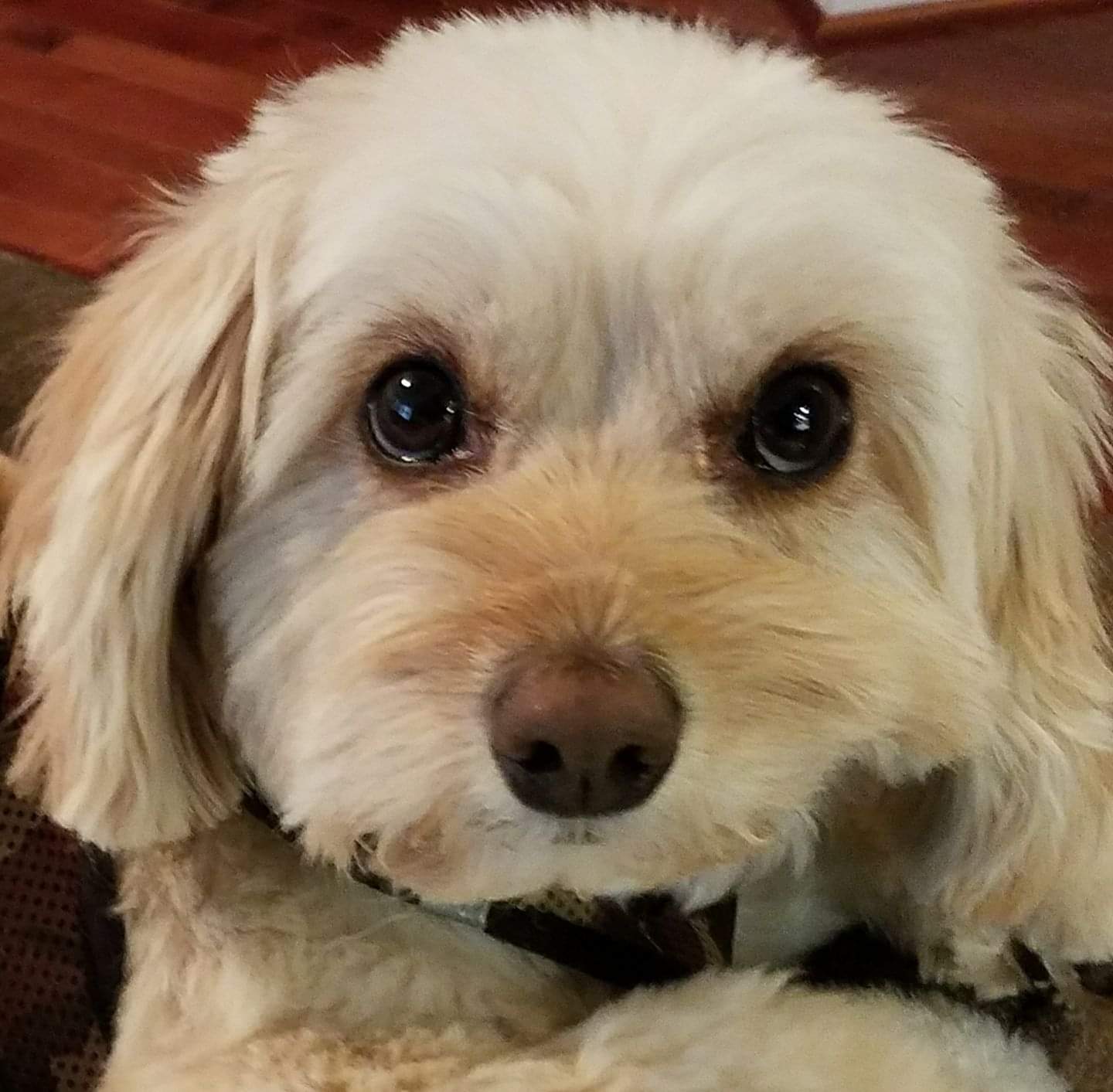 Our pup was suffering from severe spinal issues and our chiropractor recommended we try BARF.
That was over 2 years ago and I will never go back! Our sweet boy is back to his old self and loving life. He also loves the food which is a plus! We love our BARF family so keep doing what you are doing- you make a difference to us! Thank you!"
- Alison G, Ashburn, VA
I am a believer in raw food for my dogs.
I try to feed my family only the healthiest, most natural foods possible, so why would I want any less for my dogs. I am so committed to feeding my dogs raw foods that initially, I was making it myself. The process is very labor intensive. I eventually began searching for a raw dog food that would meet my requirements of being domestic and truly raw. This is when I found BARF. Our retrievers look great, and no one has allergy issues. Their coats are beautiful, and nobody can believe that Buster, our 14 year old continues to look so good.
- Andrea G, San Diego, CA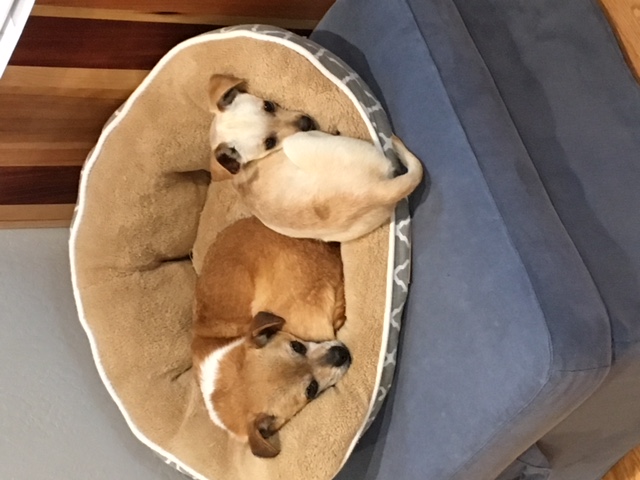 Penny's skin condition and energy have greatly improved!
Penny\'s skin condition and energy have greatly improved! Everyone with the BARF team has been fabulous and we appreciate the special gifts too :-)
- Kelly G, San Rafael, CA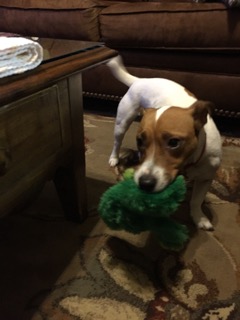 Barf,
My dog Lilyana is 5 years old, and the center of my world. We have been down a road of severe allergies, I had her tested at a year, because on Christmas eve, she was scratching so hard that her ear because bloated. We took her to the vet after Christmas and found that she had allergies. I had her allergy tested and found that she was allergic to 15 items. It was suggested several dog food prescriptions that provided zero relief. I then tried an expensive freeze dried dog food, that helped but she was still suffering issues. Then I saw an online add for BARF, and I figured I might as well try it. Let me tell you what a difference it has made in Lilyana's life. She no longer scratches all night long, she no longer has hot sports, and acts like a normal Jack Russell. I cannot thank you enough for what you have done for me and for her. If you ever have a potential customer, please give them my info, because I would be ecstatic to share what BARF has done. Please keep making this product, because your company is helping our pets live healthier, longer lives.
- Terri G, Deer Park, TX
My goldendoodle, Daisy recently started dog agility training and she's just flying through those hoops.
My goldendoodle, Daisy recently started dog agility training and she\'s just flying through those hoops. It\'s hard to keep up with her! She\'s been on the BARF diet since she was a puppy. After my last two golden retrievers were diagnosed with cancer, I decided I had to do something to protect Daisy from the same fate. So I started feeding her the BARF Diet. She is doing so well on it that I\'m now in the process of converting my Bengal cat, Kitty to the BARF Diet as well.
- Sharon G, Arvada, CO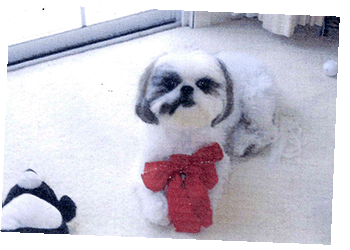 Milly's been on the BARF Diet from the beginning and she's doing fine.
Milly\'s been on the BARF Diet from the beginning and she\'s doing fine. We never go to the vet unless its for a shot. I\'m so pleased with that. Both of my daughters have pets on BARF too.
- Jean H, Novato, CA
I just brought our dachshund in to our groomer and she couldn't believe that he was 12 years old.
I just brought our dachshund in to our groomer and she couldn\'t believe that he was 12 years old. Our vet can\'t believe it either. My husband and I totally attribute it to the diet. We have always had dogs and the previous ones have never been this healthy, their teeth have never been this clean and they have never been as active at this age. He is really active and has no problems at all.
- Irene H, McKinney, TX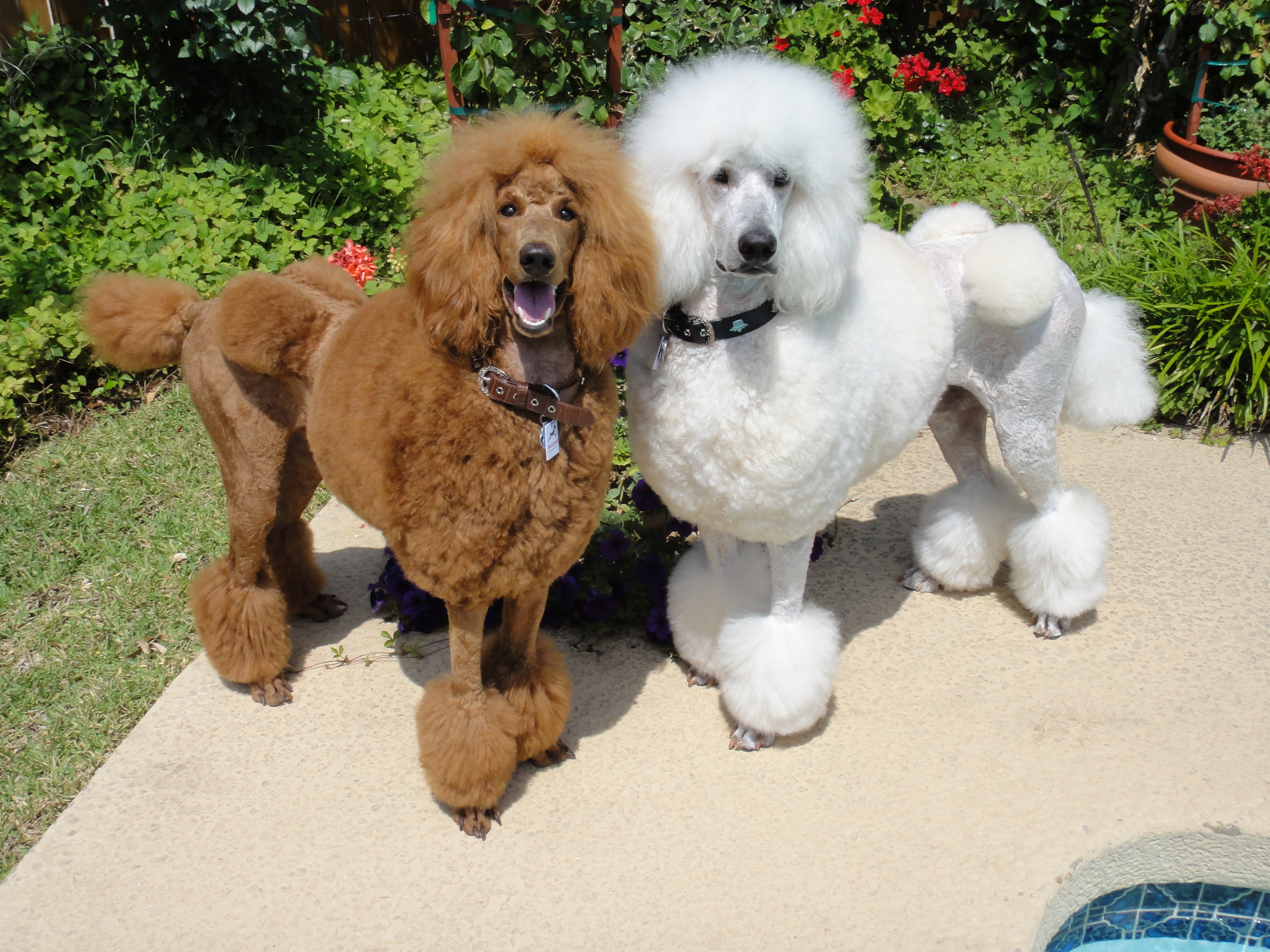 Thanks so much for always taking such good care of my two special babies, Booh & Atticus.
As puppies, my breeder, who is a top breeder and shower of standard poodles, suggested that if I wanted the best health for my dogs, I should use Barfworld. Both of my guys have been raised from day one with only your great diet. They are healthy and strong and love to play at the lake and run all day. I never feed them anything else. If we travel, I find a way to take their food with me. I also wanted to say a special thank you to all of the personal care you all give. I love your personal notes and hands-on care and attention. After seven plus years as a devoted customer, Fedex messed up the delivery this week. All I had to do was to call you guys and Autumn fixed my order instantly and is following up to make sure everything is better than alright. You really run this business like the old days when businesses really cared. Thanks for the best food and the best customer support!!!
- Cathryn H, Dallas, TX
I have two dogs, Sophie and Butch.
Both of them have a very nice and shiny coats. I get compliments on their shiny coats all the time. I never see Sophie eat so good. When I found Sophie she was finicky and when I put the food down she would hardly eat it. This is not the case with the BARF diet.
- Bernard H, Cambria Heights, NY
Our dog Captain, a 85 pound lab retriever, was eight when we switched him to the BARF World diet.
Already after the first few weeks he seemed invigorated, more energetic and his joint stiffness (arthritis) improved markedly. Now he chases the ball around like a puppy, his coat looks wonderful, he barely sheds and is overall a happier and healthier dog. We will never feed him anything else.
- Claudia H, San Diego, CA
We are a Hall of Fame Excellent Kennel #27 with the Australian Shepard Club of America (ASCA) and AKC.
We raise are dogs to meet the ASCA Breed Standard and compete in Conformation, Stock Trials, Agility, Obedience and Rally. Are dogs are first and foremost are pets, but they are true athletes and while I can\'t afford to feed eight 50lb dogs your BARF formulas, I do add raw chicken necks to their meals of Super Premium kibble twice a day. The girls that will be bred go on your formula once their bred and stay on it until two months post weaning of puppies. Of course the puppies are weaned on to it, once we start weaning them off of their four legged mom. If your food was not so expensive believe me when I say the entire kennel would be 100% BARF fed, its just not feasible with the costs of showing
- Trisha H, Fort Valley, GA
My Chihuahua Rocky is 11 years old and is new to the BARF Diet.
In less than 30 days I have noticed some great results. He loves the treats, EBARF Plus and Alaskan Naturals Salmon Oil. I add these supplements to every meal because he loves it all and enjoys his Etta Says Liver Treats. I stopped feeding kibble and definitely made the right switch to the BARF Diet. I am so happy to see that Rocky is acting like a pup again and his skin and coat issues have almost diminished!
- Sammie H, Aurora, CO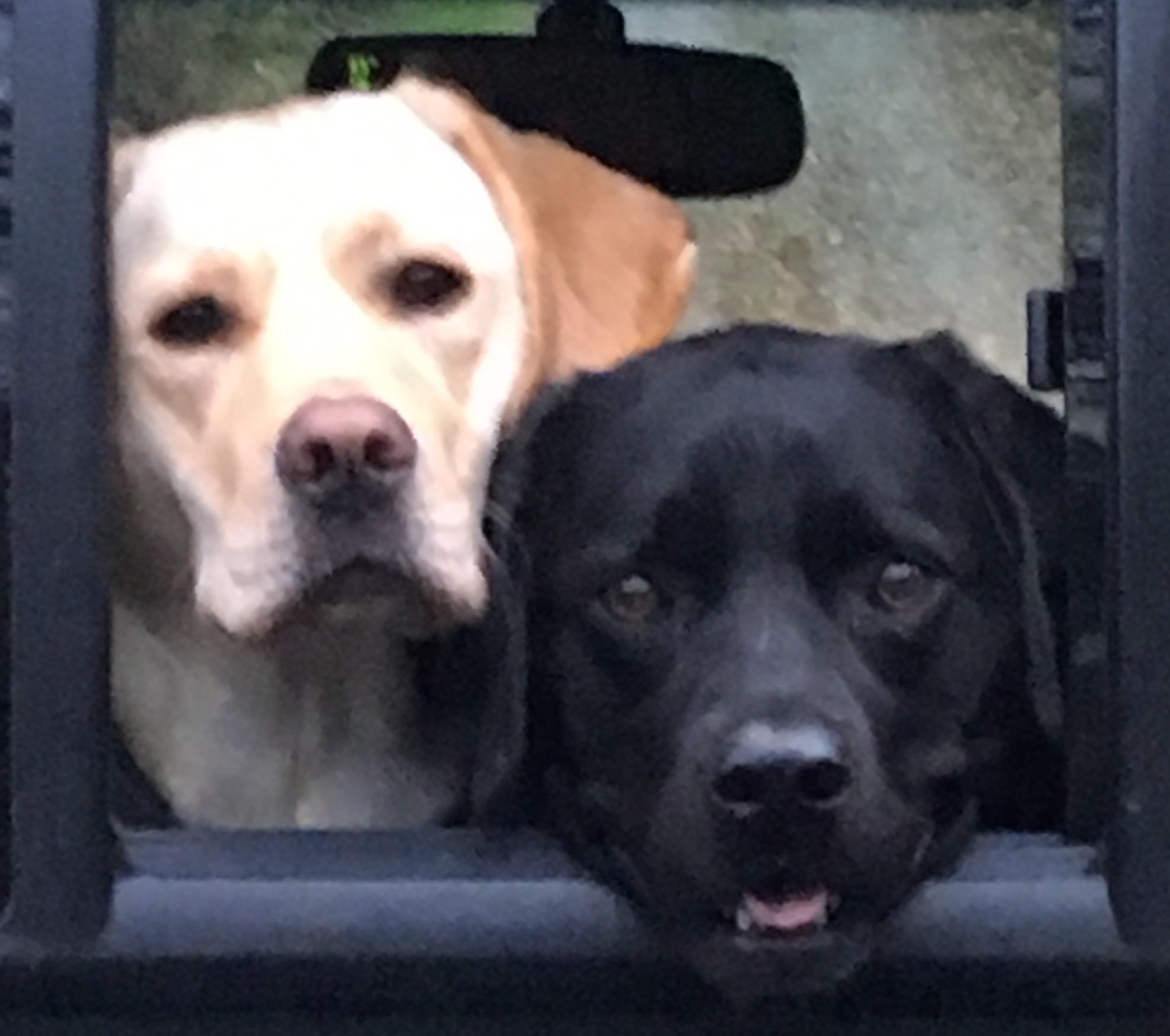 First let me say that my two dogs are absolutely THRILLED with their raw patties from BARF world.
They have never been as eager to eat as they are now. We feed kibble in the AM and raw in the PM, and we have had no issues with loose stools, etc., even when switching from one variety to another when a bag has been finished. Their coats are shinier and we have less clean-up each evening due to the higher protein content in this food. They love it! The freeze-dried nuggets are ideal for treats. They wake from a deep sleep and come running from all parts of the house when they hear the bag open.
- Anita K, Dallas, PA
We went through a month of trial and error with other foods trying to stop the diarrhea.
Nothing would work for Arrow until we started him on the BARF Diet. After the first day, he was perfect. It was really incredible. I can\'t say enough about this food- we love it!
- Wendy and Thomas K, Fresno, CA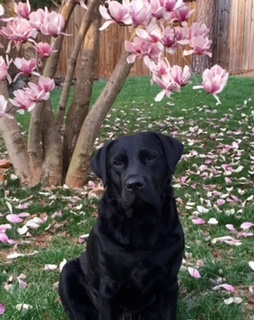 Thank You BARF World!
Your hard work on balancing the perfect diet has made a significant difference to my fur baby. We have a beautiful, sweet English black Labrador named, Camie. At age 18 months old she began to experience fur loss on both sides of her body. Our vet suspected a food, hormonal or environmental allergy and we start with changing her diet. After trying a few different dehydrated, grain free brands, with no result, we decide to contact her breeder to see if they had seen or heard of fur loss on any of their labs. She asked me about the food and treats I was giving Camie. To my surprise Everything I was giving her was high in starch and sugar which, as a result, contribute to a yeast infection on her skin and inner ears. My poor little girl was losing fur, itchy, with a dull/course coat and had an ear infection! Our breeder highly recommended that I switch to BARF raw food and explained all the ingredients and benefits. I immediately called the friendly staff at BARF World. A Raw Food Specialist explained how the shipment would come in a Styrofoam container on dry ice and that I have the option to place orders online at my convenience. At first I thought, "This isn't going to work". We live in an RV full-time, are rarely in the same location (not to mention the limited freezer space) and sometimes lack Internet service. Well, let me tell you...they make it simple!! When I don't have Internet service or have a specific delivery location, I call the friendly team at BARF World and a Raw Specialist takes care of me! They are always very kind, helpful and never miss an order. Two days later, I received my first order. I couldn't wait to give Camie her Juicy Lamb Patties. Of course, she loved them right away! We call them Her "hamburgers". She gets so excited, sometimes I swear her tail is going to wag off! With in six months Camie's fur grew in thick, shiny and soft. She no longer is itchy and her ear infection is gone. Finally she is healthy, happy and back to being as beautiful outside as she is within. Thank you BARF World and staff! Tania, Mike and Camie K.
- Taunia K, Sapphire, NC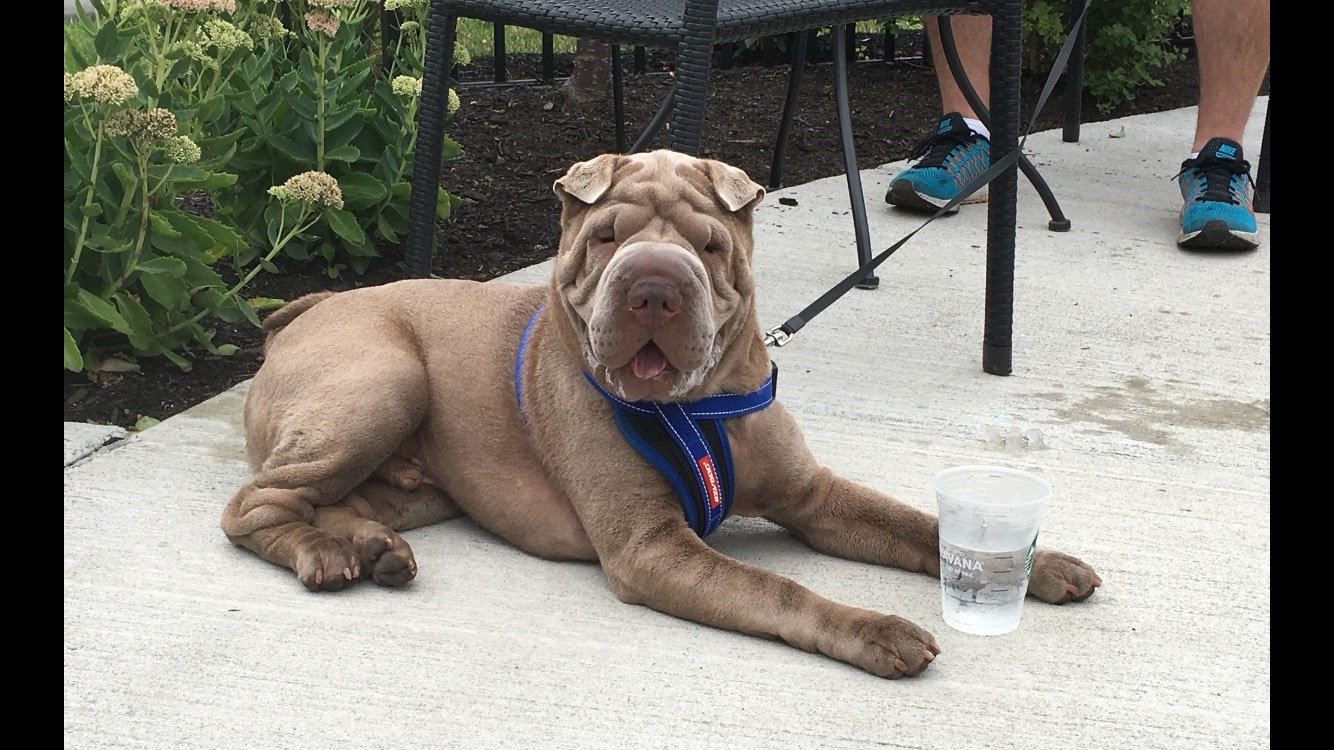 Tony looks amazing - his coat and skin have improved tenfold and his itching and ear infections (yeast) has greatly reduced.
- Susanna L, East Boston, MA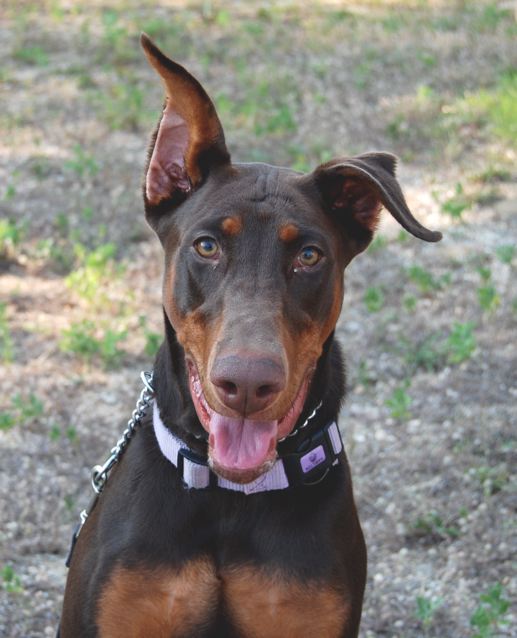 I rescued a red doberman (Dharma) and have been feeding her barf diet and using the E-BARF Plus supplement.
Her coat is so soft and it shines, her eyes are bright and she\'s full on energy. I have looked at other supplements that friends have told me about but none come close to what BARF offers. People always stop me and comment on her beautiful coat.
- Judy & bill L, Whitehouse Station, NJ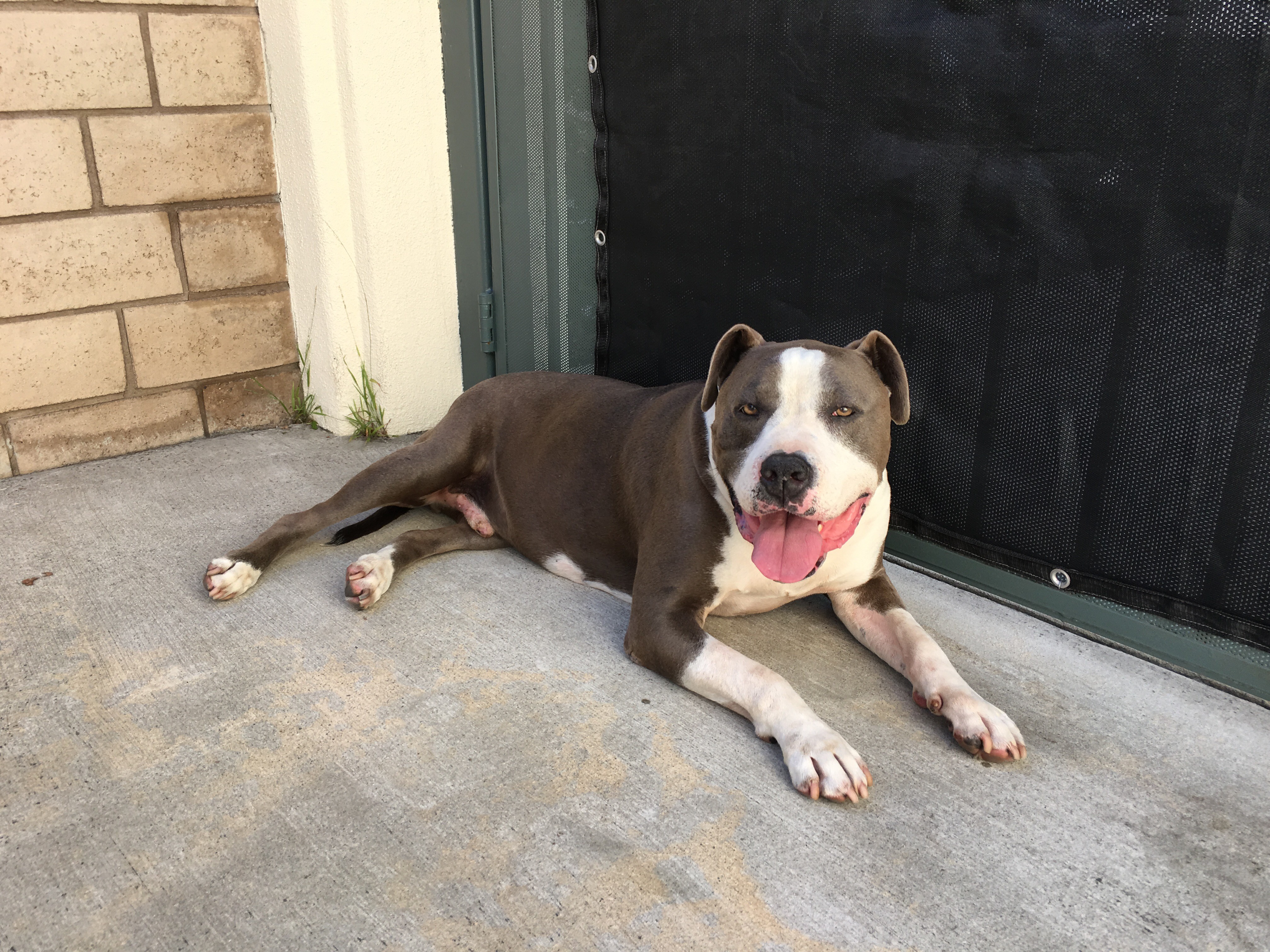 As a new BARF family member I have seen great results within my first 30 days!
The Lavender Noni Lotion is like a miracle cream. My Pitbull Max had constant itching, hair loss and skin redness. With the Noni Lotion Max is scratching less and his skin looks better already. I am so happy to see that Max is growing hair back already. I definitely believe in the BARF Diet.
- Xiaomo L, La Verne, CA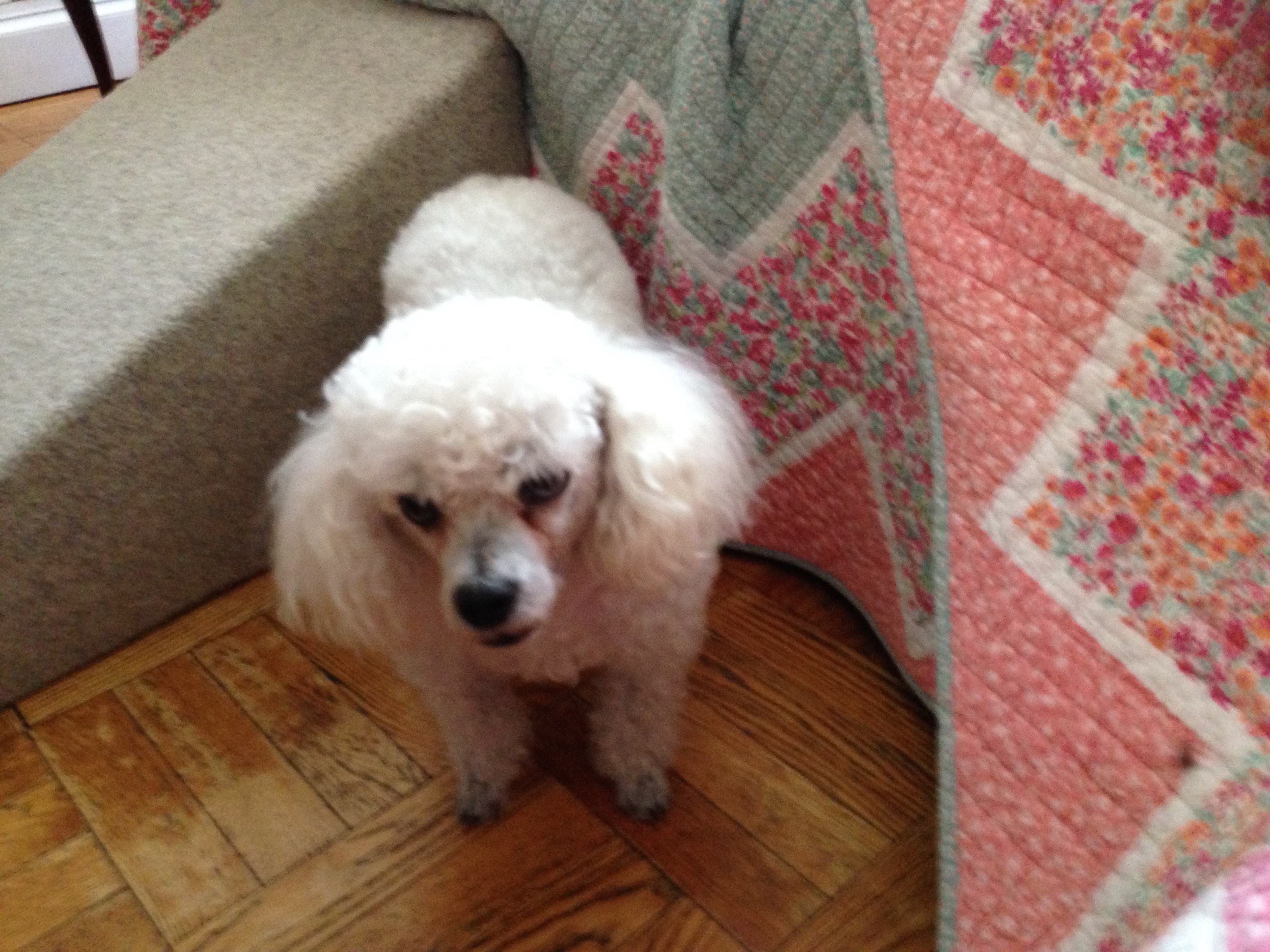 When I first contacted you I was a new dog mommy.
I had adopted this ten year old rescue and renamed him Buddy. He had health issues, including a major surgery and digestive problems. I was leery of trying raw food but after reading up on it I decided to give it a try. Am I glad I did. His digestion, mood and demeanor have all changed for the better. Every day as I move to give him his bowl he looks up and licks his lips, his eyes shining. He's my little old man with renewed energy and big dog attitude. Our little prince. Thank you.
- Marcia L, Bronx, NY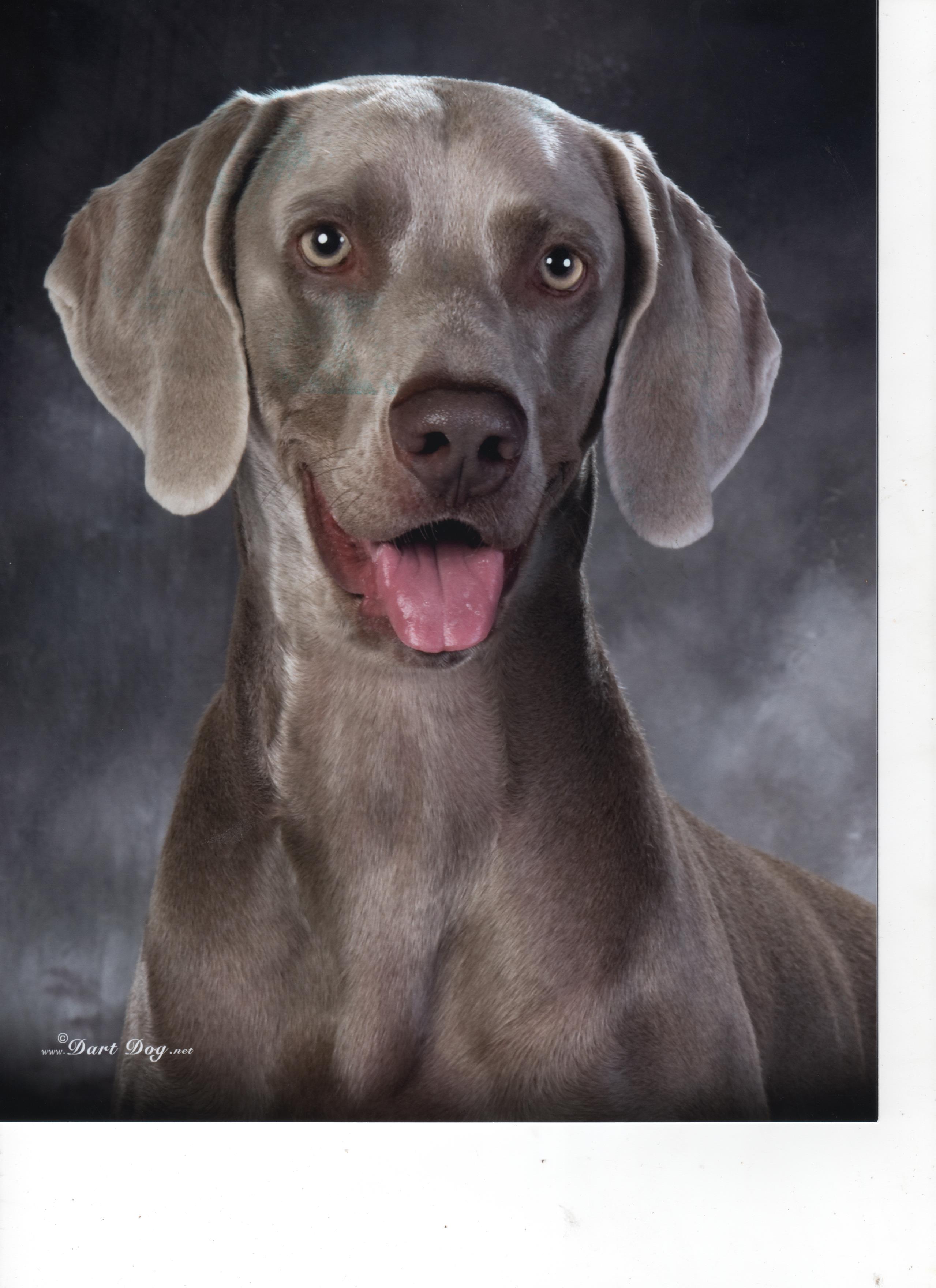 My dog Apollo is a very high energy dog but not a big eater.
BARF satisfies him and his skin and coat look wonderful. His weight stays where it should be.
- Aileen L, Issaquah, WA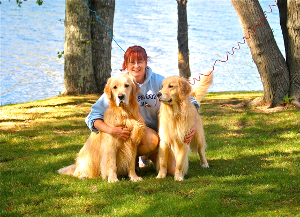 My dogs have been on the BARF diet since they were "adolescents".
My dogs have been on the BARF diet since they were \"adolescents\". They are full of energy and their coats are thick, shiny and soft. I get compliments all the time on how good they look. They are healthy, happy and have no joint issues.
- Vanessa M, Bordentown, NJ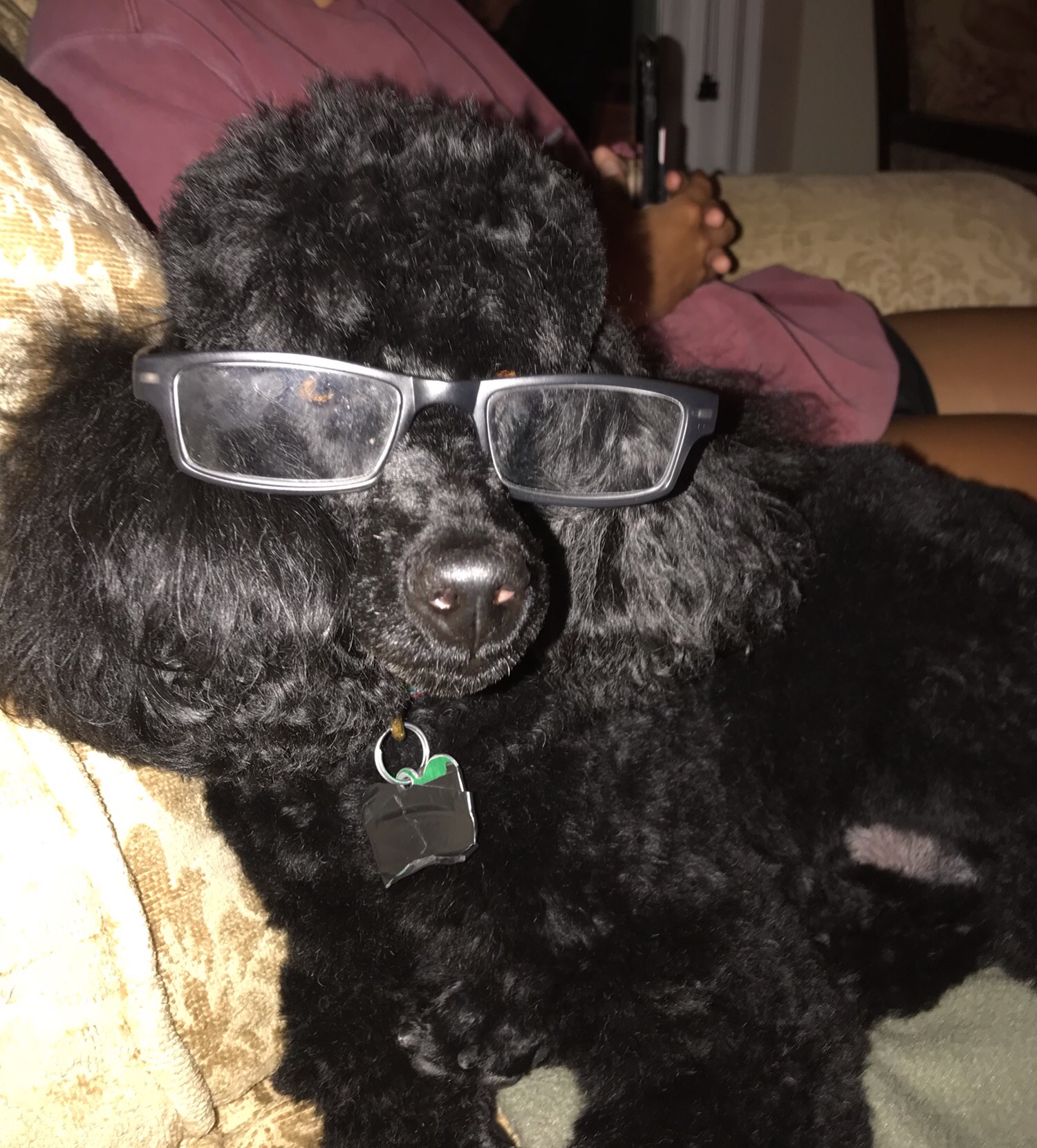 Tony has been eating Barf since he was a puppy.
It's the only food he has known, as his breeder started him on it. He is 10 years old in June and has been healthy and happy with his food!
- Shawn M, Marblehead, MA
I recently ordered the BARF diet for my 4.5 lb Chihuahua
\
- Julieann M, Encinitas, CA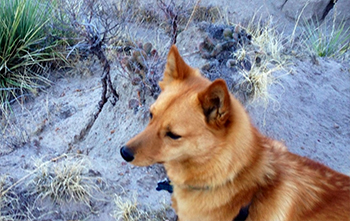 Taika is my Finnish Spitz who has been on BARF all her life.
It has just been easy. Her digestion is great, her weight is great, her energy is up, up, up always! It\'s so easy to prepare- I\'m just delighted on all accounts. Her coat is glossy, which is due to proper nutrition. She has a good immune system. Eating correctly certainly bolsters one\'s health and she is a walking example of canine health.
- Suzanne M, Colorado Springs, CO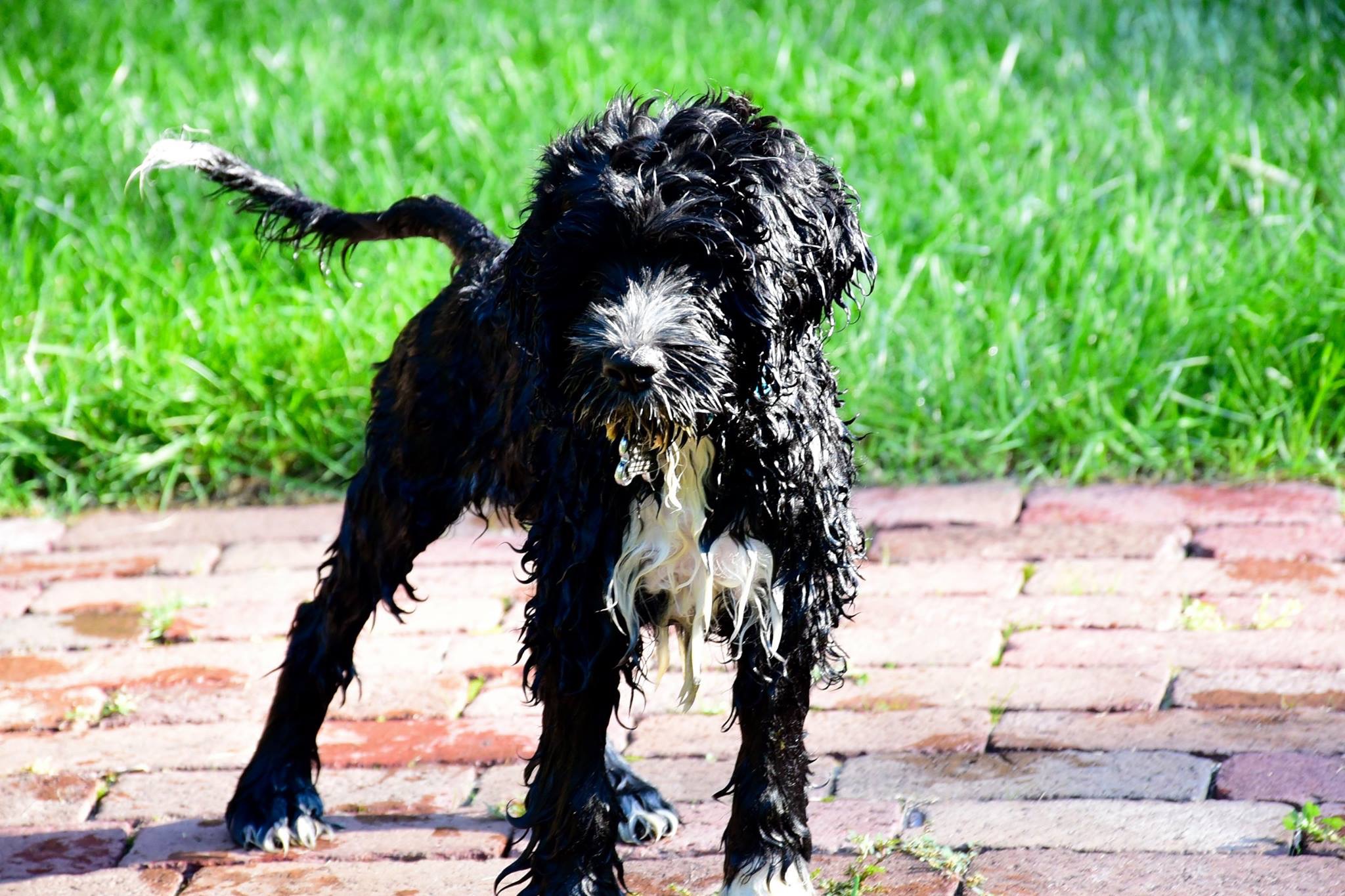 This is our new puppy Otis!  We committed to Barf for 90 days but weren't sure for the long haul.
We now are officially committed.  Very easy, convenient and Otis loves it.  Great customer service.  Better yet as a physical therapist, I totally believe in proper fuel. We love Otis and want him around for a very long time. Thanks to Mariposa Portuguese Water Dog's - David Swank for introducing us to the raw diet and Barf World. Otis is a very active Portie who loves his raw diet. We love the convenience and customer service and the benefits of raw
- Deanna M, Whitehouse, OH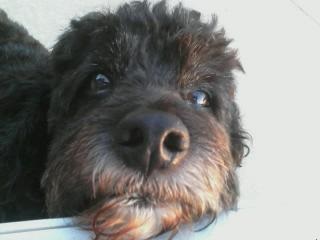 Levi is a 9-yr old Cockapoo.
He\'s scratching MUCH LESS now after 6 weeks of eating BARF.
- Karen N, Bartlesville, OK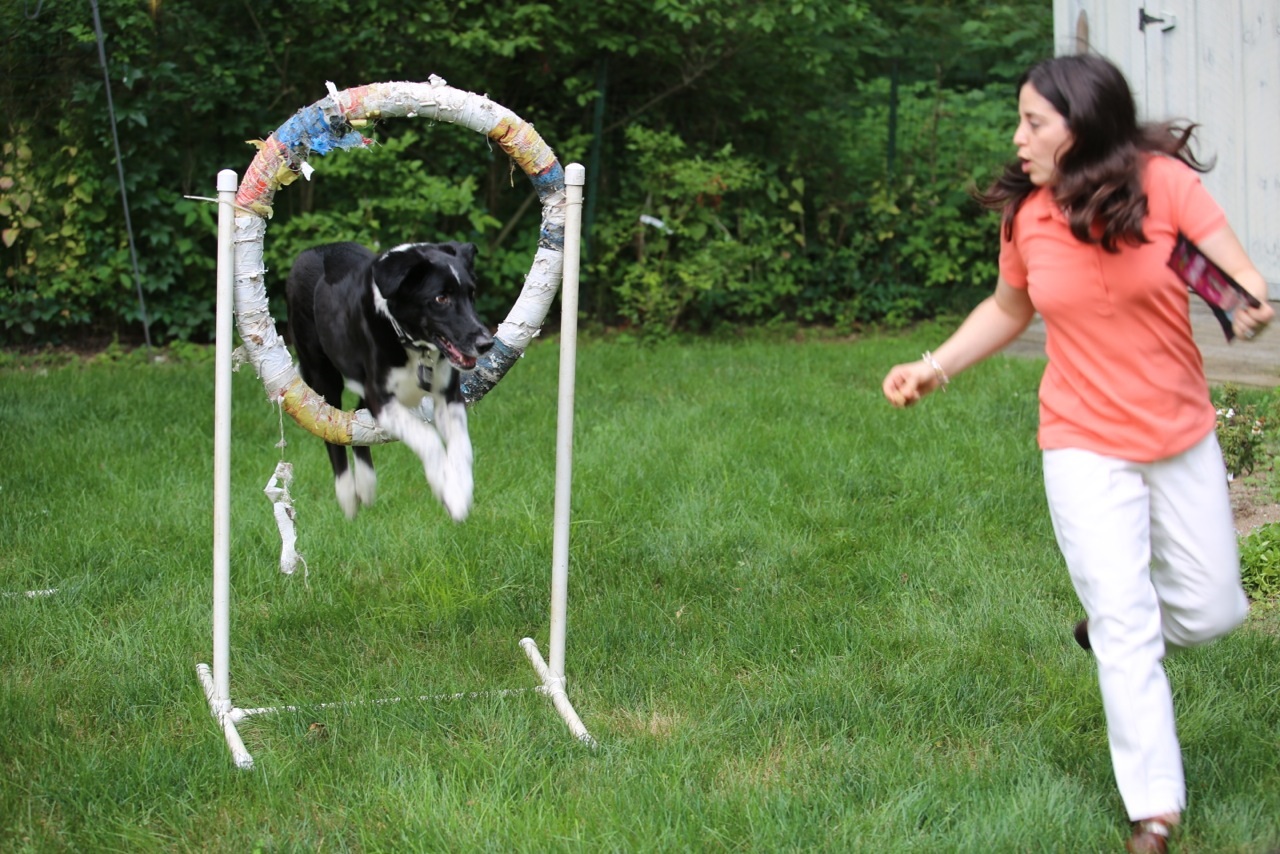 Strider has been eating the BARF Diet for years.
He loves it. We tried the food for his health and skin issues. Since on the raw diet, he has become a very healthy dog.
- Elizabeth N, Wayland, MA
We began using BARF for our older dog Nicholas, who was plagued with allergies and digestive problems.
He could clear a room with his gas. But after the BARF diet, he never had an episode of gas or diarrhea again. He thrived and so did all our pups.
- Barbara N, McDonald, PA
Lucky was a digestive nightmare when I adopted him.
He would only eat 1 meal a day. I tried several different foods and even cooked for him. Once I started BARF he had more energy, no lethargic behavior and is excited to eat. Thank you Barf World.
- Jill N, Lake Elsinore, CA
My dog Kylee has been on the BARF diet for over a month now.
She has lost weight and seems more satisfied. She even reminds us when it\'s dinner time by barking at us. When I am preparing her meals she comes running in and sits right next to me sniffing the air with anticipation. She eats every bit and begs less for additional treats. In fact she now sometimes turns down grain based treats. I believe by her behavior that she is more content and happy. It just makes good sense to feed raw. Since dogs ate raw meat for thousands of years, and we tried to switch them to grains which are not their natural diet.
- Roy O, Quakertown, PA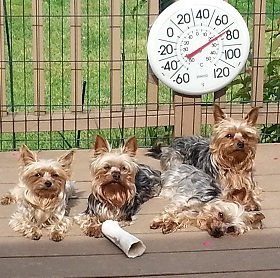 I heard about raw food through my chiropractor, who had her older dog on the raw diet.
She said that he improved so much on it. I have had problems with all of my previous Yorkies. They all had health issues. I knew I had to do something and got them off the commercial food. BARF came up when I researched it. I ordered the books and got the diet. Truthfully they are doing great now.
- Betsy P, Brooklyn Park, MN
Noah could not stop itching, and his attitude was very bad.
He was in training constantly, give him an inch and he would take a mile. The only thing that stopped his itch was prednisone and antibiotics for sores.
- Theresa P, Brentwood, NH
During the first six weeks I had Cissie, I had a hard time getting her to eat.
Gene (previous owner) also had had a hard time getting Cissie to eat. My daughter, who is into traditional foods, told me about this dog food she had seen online that was biologically appropriate raw food for dogs. In fact that was it\'s named - BARF. We laughed at the name, but we were happy to try it. That was October of 2011. Cissie loved it. In fact, I had to start giving her breakfast before her morning walk. We\'d be a couple blocks away from home, and she\'d just take off for home wanting her breakfast, running across streets before I could catch her. She loves BARF as you can see in the video. I\'m so happy to say that Cissie is now one happy, healthy dog! Thank you, BARF World for your part in that!
- Cathleen P, Sandpoint, ID
Honestly, I have fed my dogs BARF from the beginning because I wanted only the best for them.
They love it and are happy and healthy, so why change a good thing!
- Elva P, Englewood, CO
I originally started on the BARF diet for my labs.
I didn\'t like the foods you could get in stores because of all the garbage in them. I was dissatisfied with the food that they were getting so I started researching a better diet for them. They did well on it and now both of my poodles are on it too! Their energy and the life quality of my dogs has been the thing I love the most about the diet.
- Janet P, Citrus Heights, CA
Our family is hooked on BARF.
The reason for us being hooked is quite clear- our previous dogs were street dogs and we spent thousands of dollars having growths removed from them. We took them to the holistic vet and told him about our experience with the cost of growth removals and he told us \
- Isaac P, Miami, FL
Mars is glad that we have returned to the BARF Diet.
We tried a cheaper brand but found they were indeed \
- Judith R, Hollywood, MD
I rescued Fritz last year.
A good friend who feeds raw, recommended the BARF World site. She said that feeding raw really made a difference in the rescue dogs that were coming in. I could definitely tell the difference in his stool. It was much more condensed. I live in a condominium and have to pick up after him when we walk all the time. It was a good difference to see.
- Lois R, Union, KY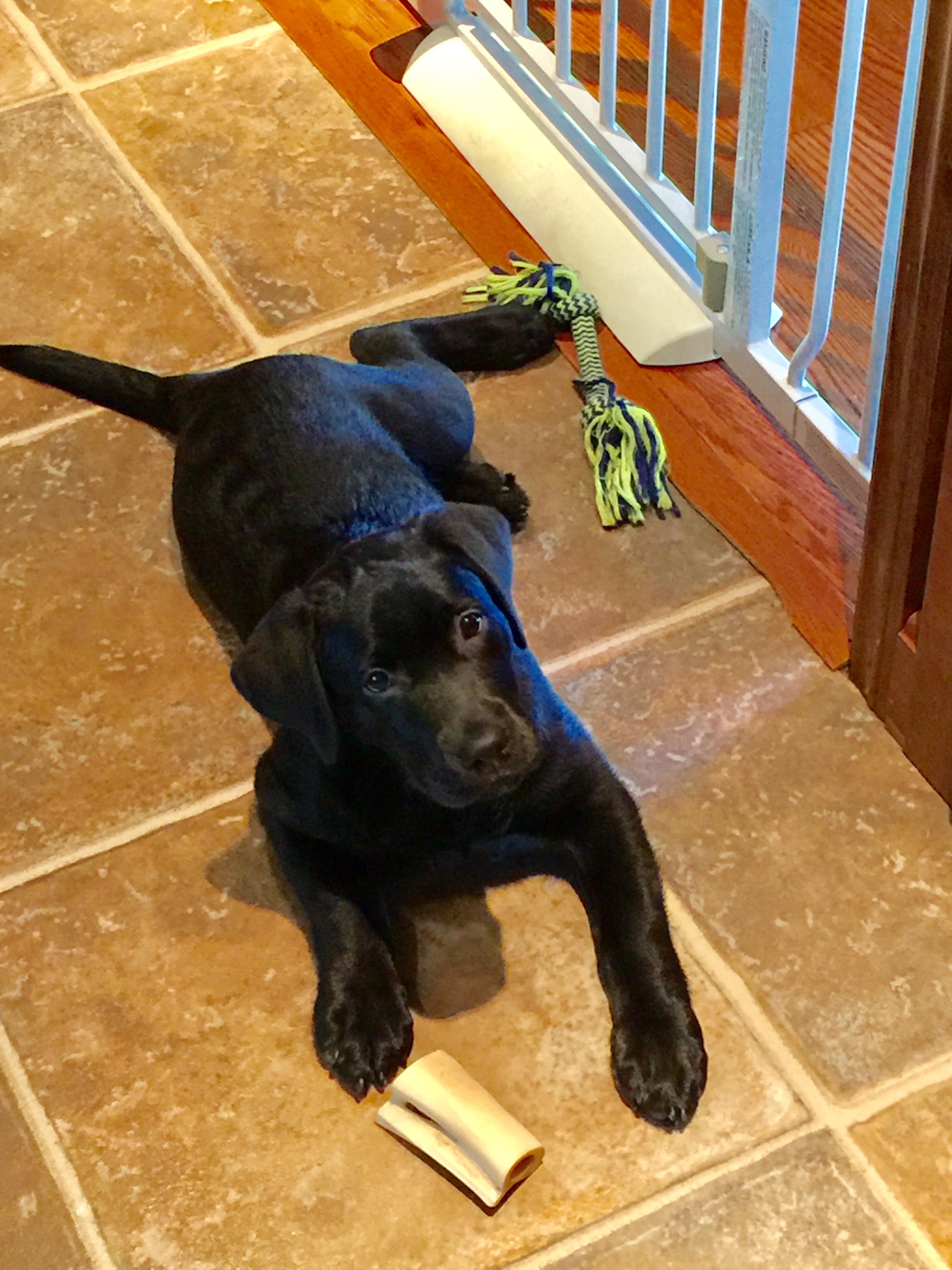 Sage is in love with her BARF food.
She can't wait for meals. In fact she wakes me up in the morning to get her breakfast started. She is definitely a happy BARF customer!
- Kathy R, Quakertown, PA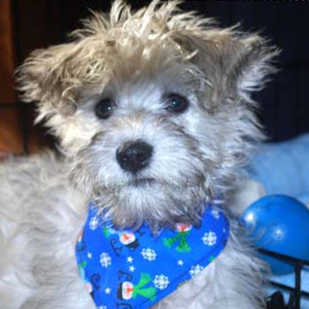 I adopted a 3 week old Schnauzer mix who;s mama was rescued from a puppy Mill.
When I brought Rio home he kept scratching and looked very uncomfortable. I wasn\'t sure if it was the food the rescue group had him on or not. I immediately went onto the web searching for better, natural food to give him. That\'s when I found BARF. After I ordered it, I saw a complete change in Rio\'s skin and coat after a month. He completely stopped scratching and guess what? His breath doesn\'t even smell. He is now 8 months old and he love\'s his food. He will do back flips for it.
- Valentina & Jean-Claude R, South Glastonbury, CT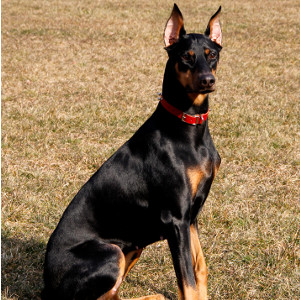 Mela, my Doberman Pinscher was on another brand of raw food prior to BARF World.
She did not really like those patties, and they did not improve her skin problems. She loves the BARF World patties, and get really excited at feeding time. Her coat looks much better too. I guess not all raw foods are created equal. Thanks again.
- Shari R, Hunlock creek, PA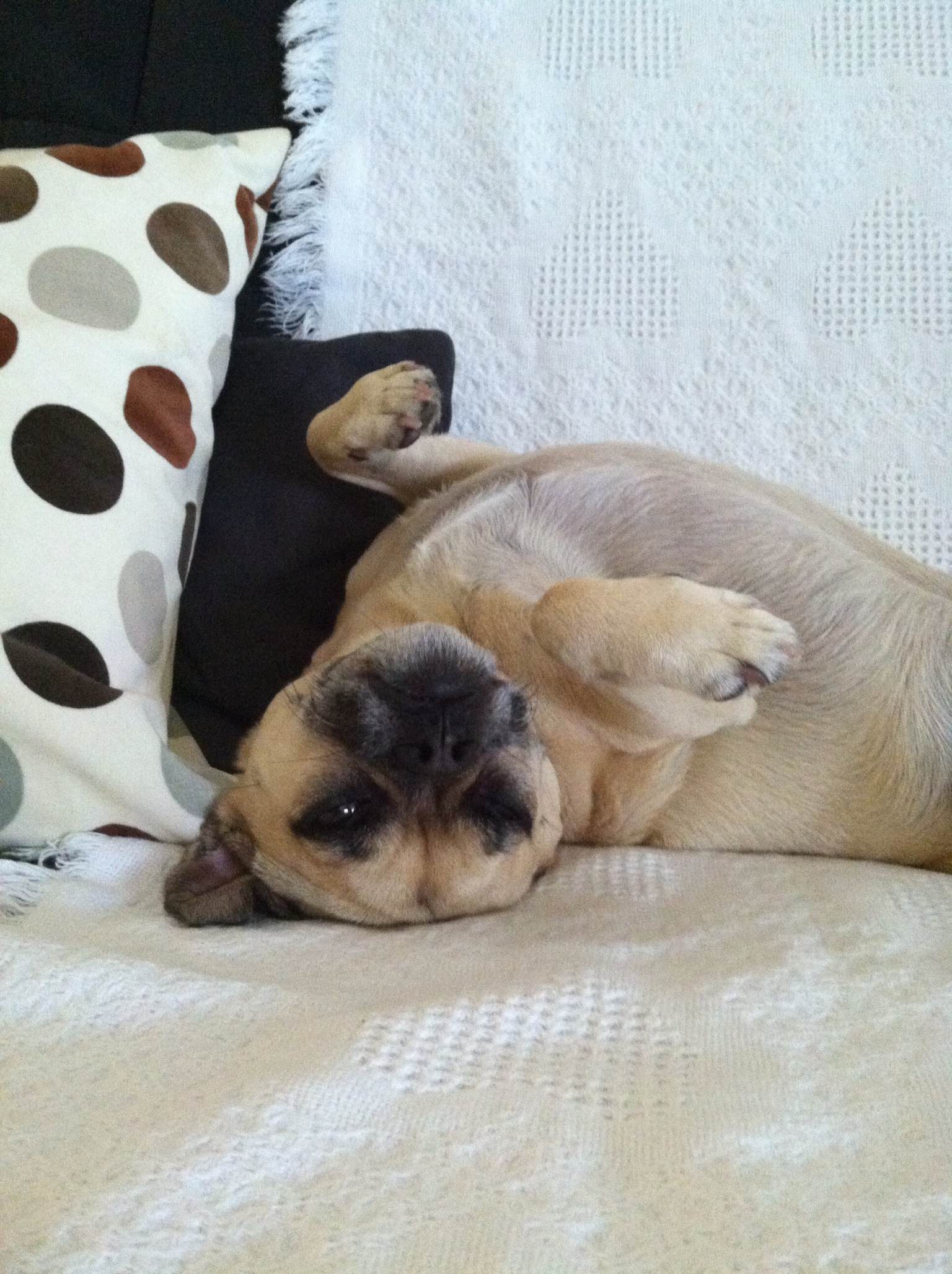 My sweet baby, Desoto, a 6- year old puggle, has started having energy level issues.
This was a dog that used to run 5-6 times a week. I used to roller blade and bike with him since he was a puppy. I have done some research about the dog food that we can get in the pet stores and realized what kind of garbage is put in it and how it can harm the dog. I have tried to switch Desoto to a Vegetarian dry food, hoping that it would have less toxic ingredients. After about 2 years on the Vegetarian food, he started to loose energy, sleep more and was not interested in walking at all. He was definitely missing something in his diet. I have learned about Barfworld through Justin and Kate at the Extreme Health Radio and the success they had with their dog, Maggie, eating Barfworld formula. I am so thankful for them because I would never know it existed. I am so thankful that some company today cares enough for the animals and is doing something about it. It is the highest quality dog food on the market right now. That is all I want to do for Desoto, the best. He loves his patties and liver treats everyday. I noticed his coat is more shiny and his teeth look better too. Al at Barfworld is doing an incredible job, the customer service with this company is through the roof. What was the last time someone called you each month after you have purchased something to check up on you? It was the first for me. I am so grateful and I hope that Barfworld will continue to grow and get more customers.
- Olina R, Davenport, FL
Comet's coat was dull and he was very thin when we became his foster family a few months ago.
Comet\'s coat was dull and he was very thin when we became his foster family a few months ago. He is a very energetic one year old English Springer Spaniel. When we changed him over from kibble to the BARF diet his coat became glossy and soft. Over the last month, by adjusting the amount of food we feed him to meet his energy requirements, he gradually is gaining to a healthier weight.
- Judie S, Chapel Hill, NC
Zena is the reason why I initially went to raw food because I tried every kind of dog food for her allergies.
She was getting ear infections and skin allergies (which white dogs are prone to). It was a nightmare!
- Alex S, Davie, FL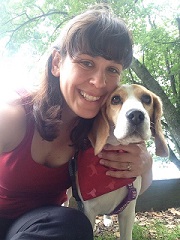 Since I adopted Ginger, I was feeding her a high quality kibble, but soon noticed she was gaining weight and it wasn't due to lack of exercise.
When I asked my vet he just told me to feed her less and walk more. That really didn't sound right or add up in my mind, so I did some further investigating and asking a friend/breeder, who told me about BARF. Since switching to BARF Ginger has lost weight and is more healthy than ever!
- Sarah S, Jamaica Plain, MA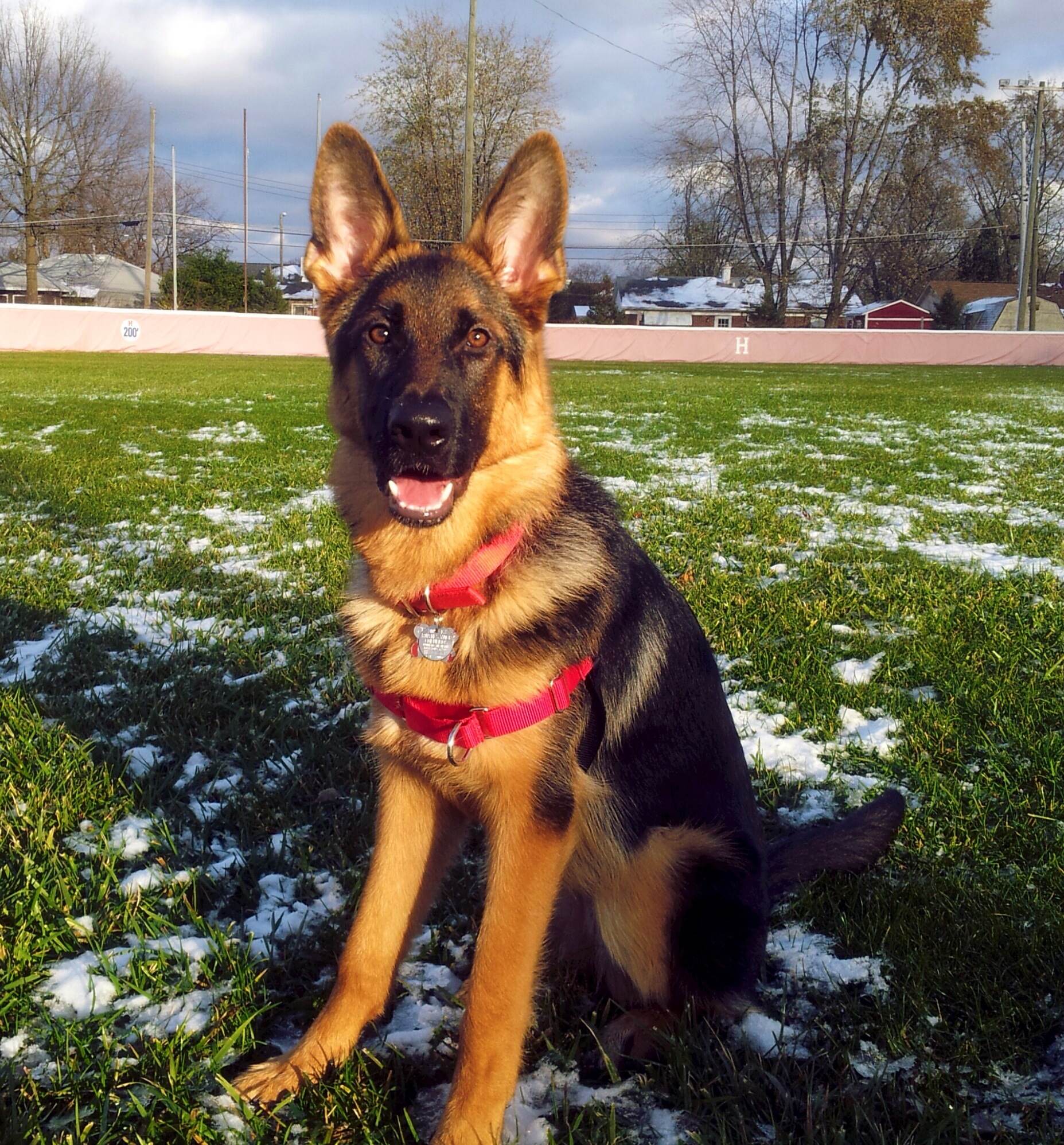 Libby was having problems on just kibble food, this is why we are using Barf products.
Being a shepherd, she had allergies and food digestion problems. Since using (BARF), She seems better, and her stools are much healthier. If I could afford it, I would buy all your products. I would do anything for Libby.
- Jacob S, Cincinatti, OH
Athena is 9 years old now and still loves BARF.
For what she went through earlier on in her life, she now has a shiny coat. I\'m going to stay with you guys!
- Ursula S, Paso Robles, CA
One of our yellow labs, Scotch, can be quite the picky eater.
He gets bored with his food and doesn't always eat at mealtimes. So we got the Etta Says! Treats Liver Sprinkles Protein Powder and started topping his food with that and now he gobbles it right up! ?
- Donna S, Colombia Cross Roads, PA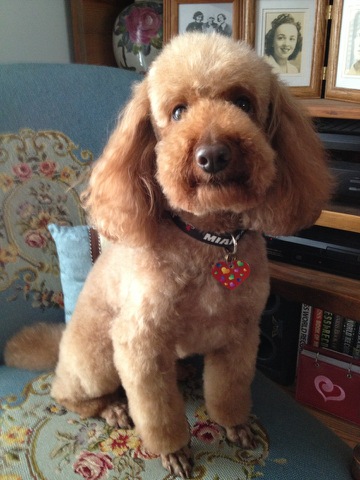 In 1994 I had 2 GSD's with various & serious health issues.
No conventional treatment seemed to work for them; in fact, their health continued to get worse. While in a pet store one day, I was browsing the book section & read about the benefits of a raw natural diet. I didn't know anyone else who fed BARF at the time & my vets wouldn't recommend it, but I figured that my dogs were so sick, I had nothing to lose. So I bought the book, took the plunge ~ & although I admit I was a little scared, I started feeding bones & raw food. I remember my dogs' first meal. They gobbled it down, their eyes rolled back in their head with joy & their expression seemed to say, "Mom, what took you so long?!?" Almost immediately their health began to improve, & within a couple of months their health problems just gradually seemed to slip away. At that time, my dogs needed various supplements. I used to buy these at the health food store & spent time wrapping each pill in Velveeta cheese to make it palatable, but this was very time-consuming. Years later, I came across the BARF website & learned about their powders. I switched to the E-Barf Plus & the Alaskan Wild Salmon Oil & life has been beautiful & so much simpler ever since. My dog loves the BARF supplements which I simply sprinkle/stir into his food. Right now my only dogchild is Rousseau, age 5 1/2, a red miniature poodle who is thriving on his raw natural diet. Hooray for BARF food & supplements!
- Patricia S, Port St Lucie, FL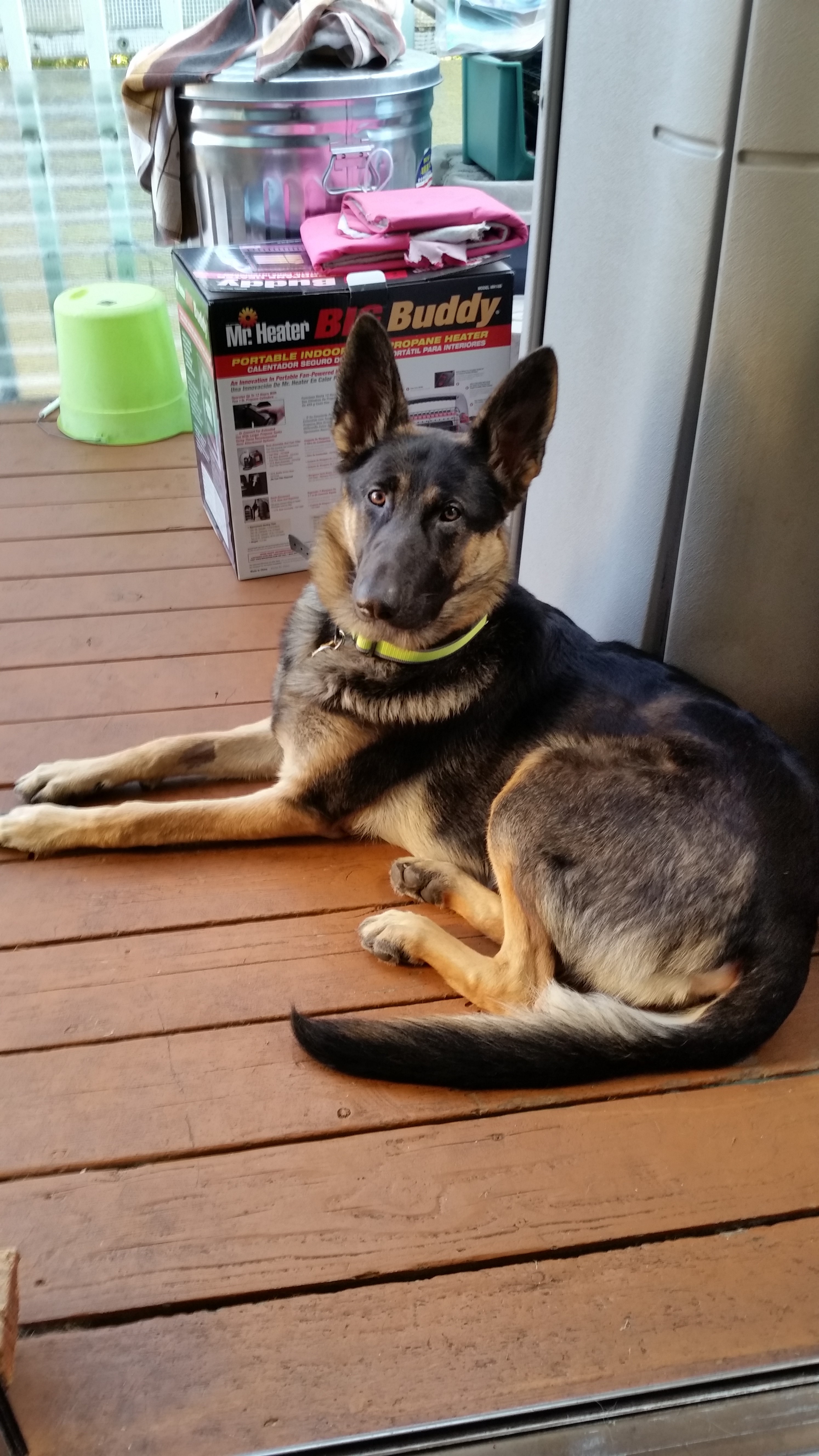 I am absolutely thrilled I can keep the freeze-dried nuggets in the pantry.
My German Shepherd loves it and can't get enough! We have already gone through the one bag I ordered to try. You guys are so helpful!
- Connie S, Tacoma, WA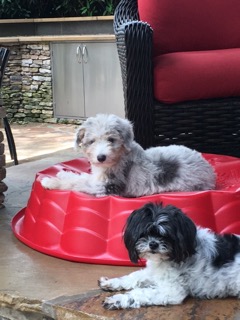 In preparation for our new puppy, Kenny, we started Ollie on Barf about a month before Kenny's arrival.
We were concerned about Ollie's energy levels at 12 years old with the introduction of an energetic puppy. Ollie used to sleep often during the day. After 6 weeks of Barf, his energy level has increased and he is playing often with Kenny! In fact, sometimes Kenny is ready to be 'done' with their play but Ollie is still going strong!
- Alana S, Maryville, TN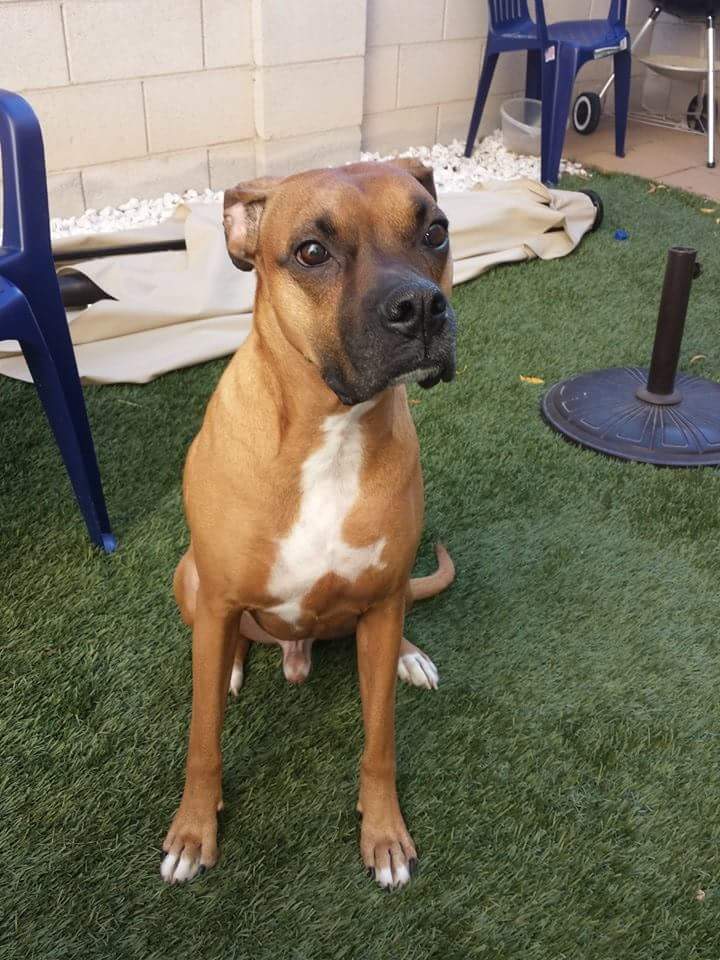 Before BARF Gibson was having facial ticks when he would eat.
Since eating BARF they have almost gone away. Also his breath is fresher and his much smaller stools. BARF has really made a difference!
- Nicholas S, Las Vegas, NV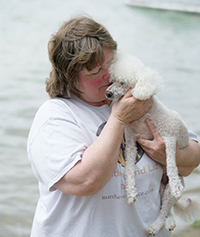 My Bichon Angel had been on a dog food prescribed by the vet for bladder stone problems.
She had almost died when she was just 5 years old from 2 bladder stones that were blocking her urethra. She had to have surgery. For the next 9 years she was on the prescription food recommended by the vet and she did not have bladder stones again. However, she did have re-occurring ear infections, bladder infections that were hard to heal, constipation, hot spots, itchy and inflamed skin, as well as a dislike for the food! When Angel was 14 years old she was very ill, literally dying before my eyes. She did continue with the bladder infections but her blood work did not indicate why she was so ill. Her stomach was bloated and she was very sick. She had cataracts, was incontinent, and had horrible hot spots along with a continual itch and inflamed skin. what do you feed your dog? I honestly believe with all my heart the illnesses our pets are dying from are directly related to the commercial food we are feeding them! I will have another dog again, not yet, it is way too soon. I miss my Angel Marie more than my heart even knew it would! But I can tell you the next time I get a dog, that dog will be on BARF/RAW from the START!!!! Thank you to all at BARF World! They are so supportive and helpful with EVERYTHING I went through! From the beginning of putting Angel on raw to the very end when I had to work hard to get her to eat. They are GREAT! They really do care about you and your pet! God Bless! CIAO! This testimonial is for you Angel Marie Schermerhorn, so your story can save another fur mom and or dads baby!!!!!! Love you baby girl! Mom!
- Karin S, Waterford, MI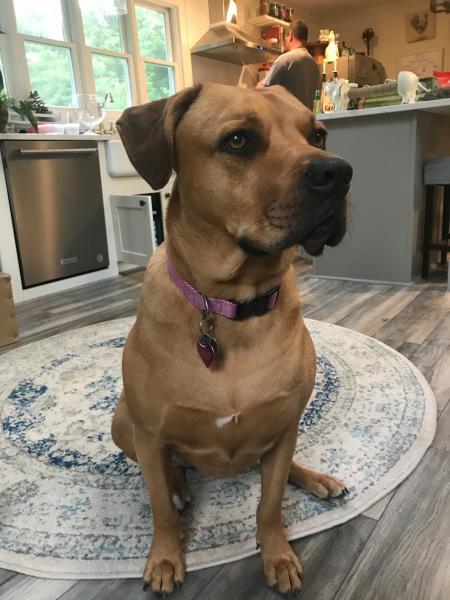 No More Kibble!
I have completely switch my girl, Winnie to raw! No more kibble! She's doing great, her coat looks awesome and her alopecia has completely cleared! I'm sure the raw helped tremendously but I've also been using CBD oil and she is finally over 6 months Post OP from her knee surgery so way less stress in her life!
- Jamie S, East Patchogue, NY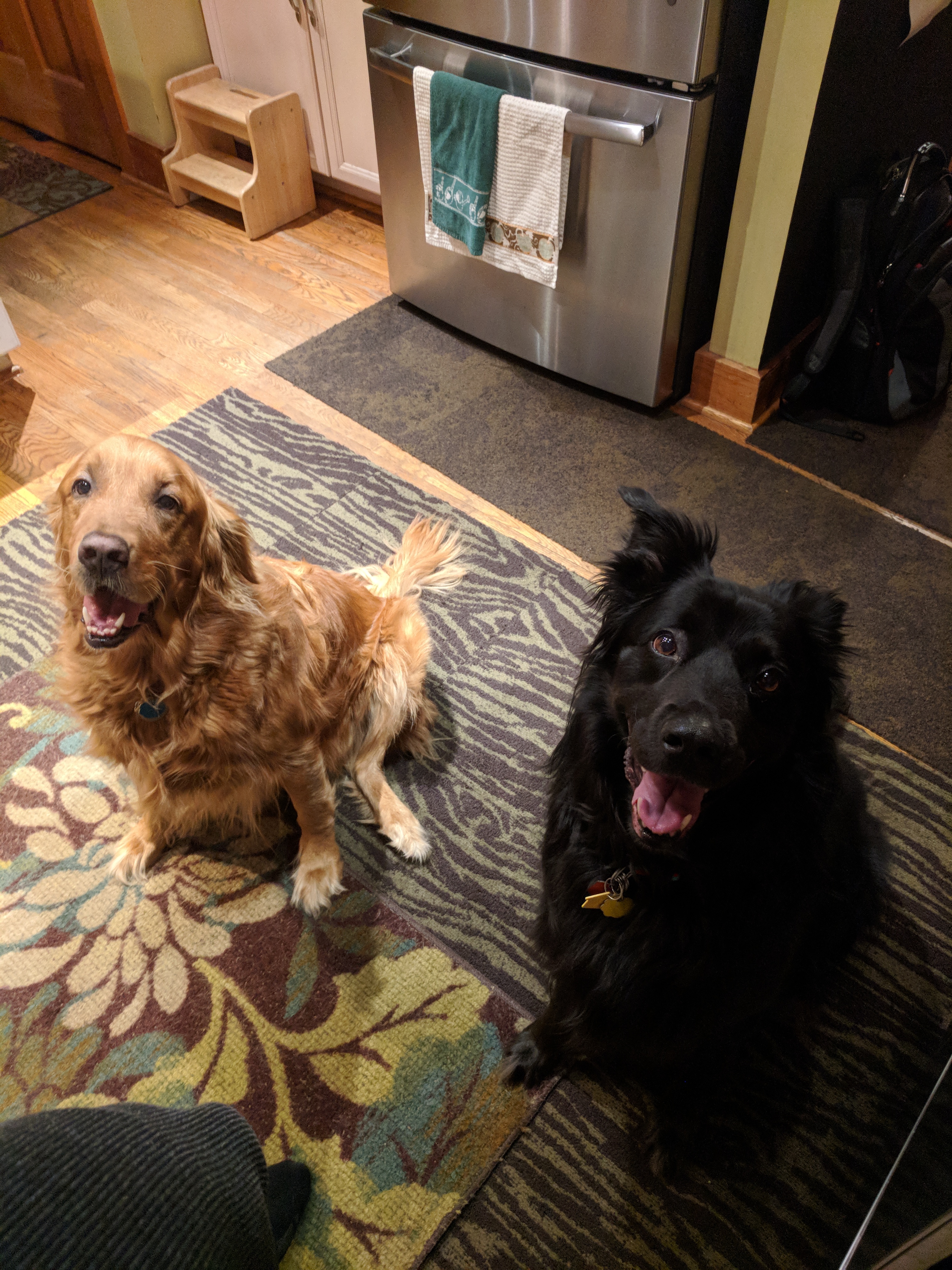 I have been using E-Barf plus and You Salmon oil for the past 4-6 months.
We've been using BARF food since the early 2000's for our last late pups (Zagnut, Rusty, and Einstein are all over the rainbow bridge), but our two latest are JR and Onyx, who absolutely love Barf, eating it with gusto inside of 3 minutes. Lately, JR our retriever had been scratching and knawing at himself quite a bit, so when you offered the E-Barf plus and salmon oil, I thought I'd take a chance with it. The results have been great to date, shinier coat, less dandruff from both dogs, and less itching and chewing. I went all-in and bought a box of 12 containers of E-Barf plus, and have been replenishing the salmon oil as I could (usually get about 1-1/2 bottles of E-Barf plus to one bottle of salmon oil). We couldn't be happier with the results, and look forward to keeping our boys shiny and healthy looking! Thanks! Stan
- Stan U, Glenn Dale, MD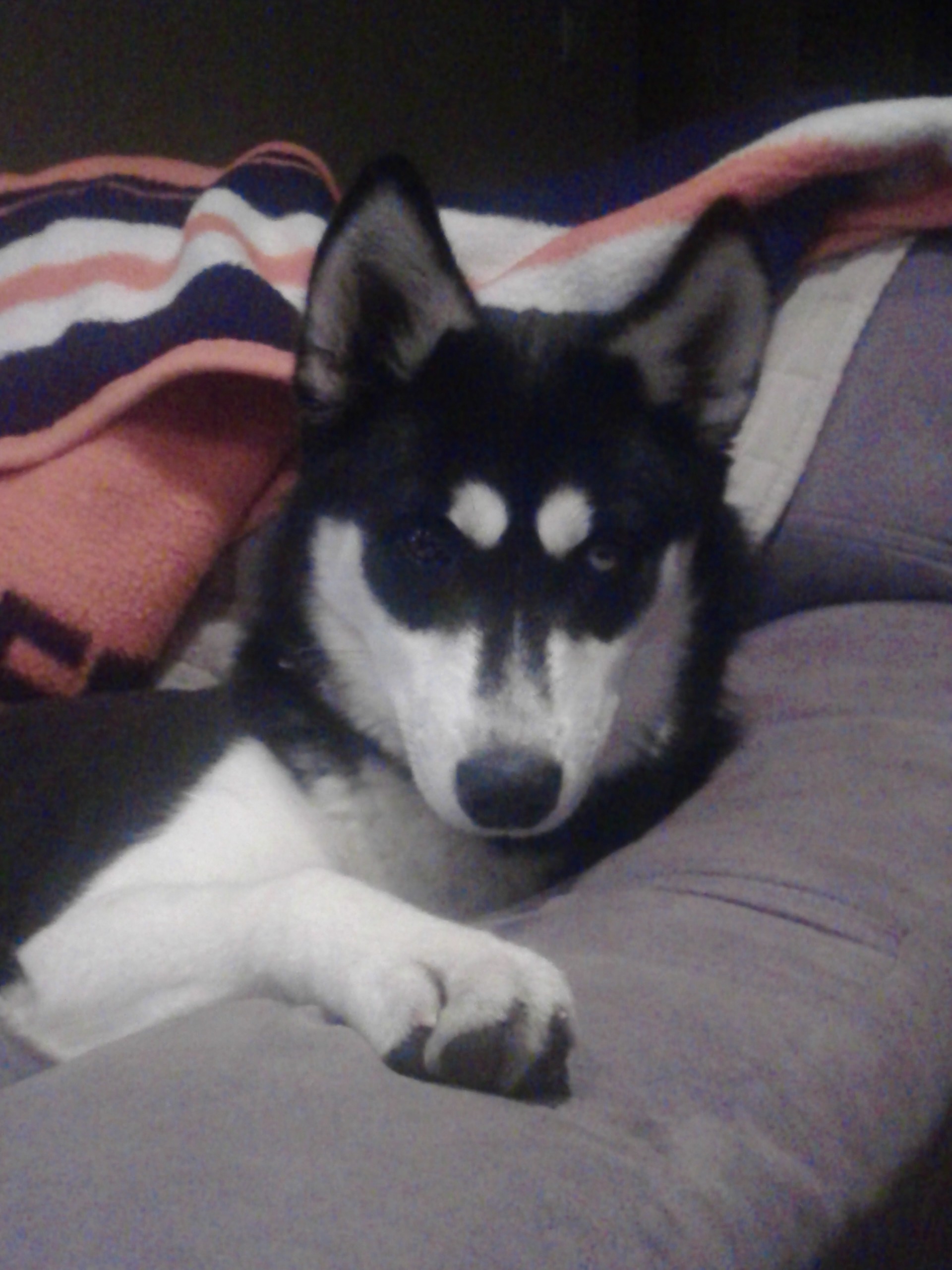 Isis was always on a raw diet but something happened with a shipment of food not showing up, forcing me to buy more people food, which leads to tons of money! i went searching online for other options and my heart literally went to my stomach when I found BARF world!
You are not only cheaper, but quicker and even more convienant. Isis cant wait for meals and loves your food! I\'m thrilled that your company cares so much about the health of my dog - it makes such difference!
- Mary V, Saylorsburg, PA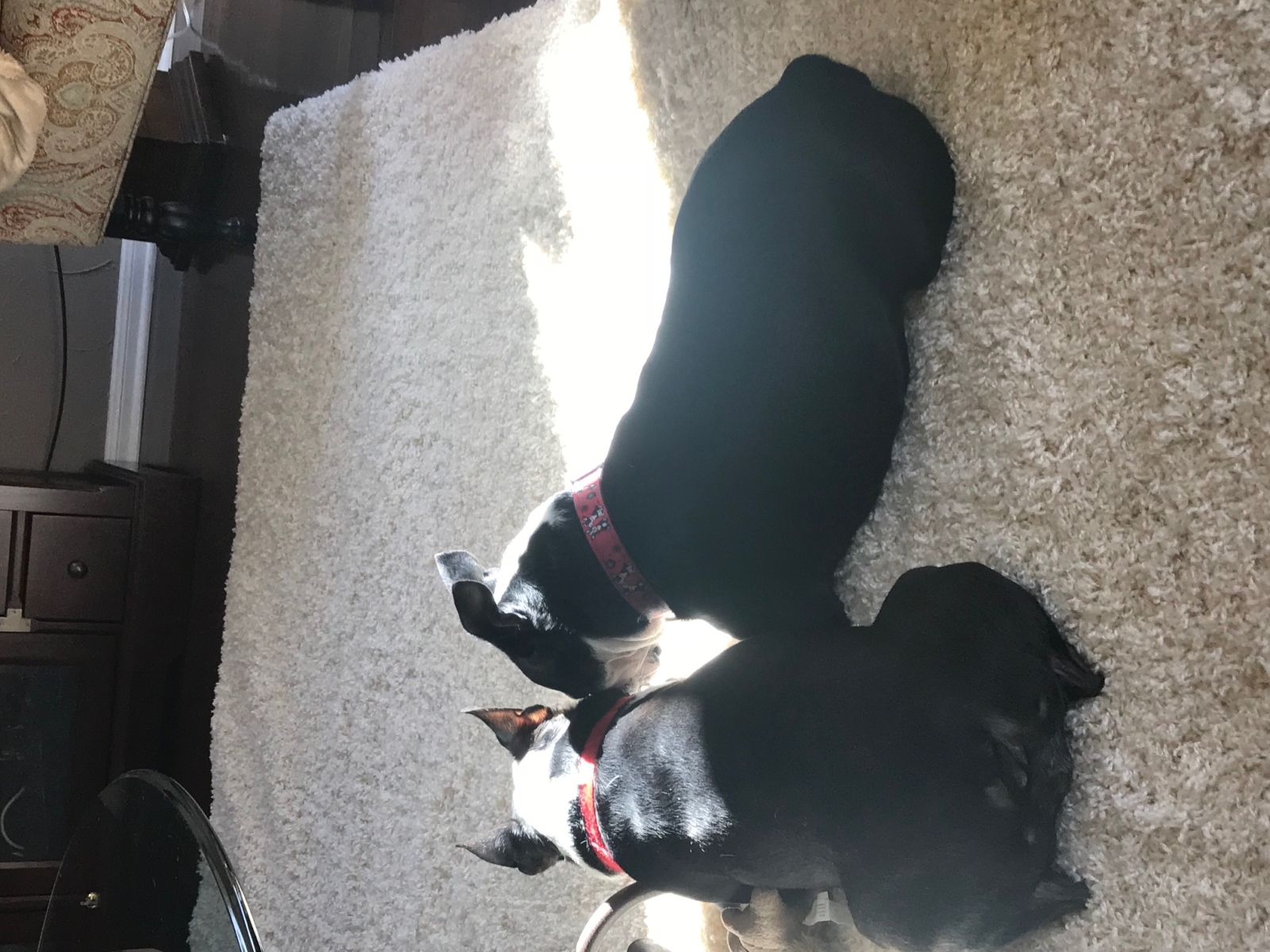 I have noticed their weight is now in line - they have little waists now.
There is a little less itching and no gas. Poops are awesome now! They are smaller and seem to disappear quicker than I can pick them up.
- Delia W, Irving, TX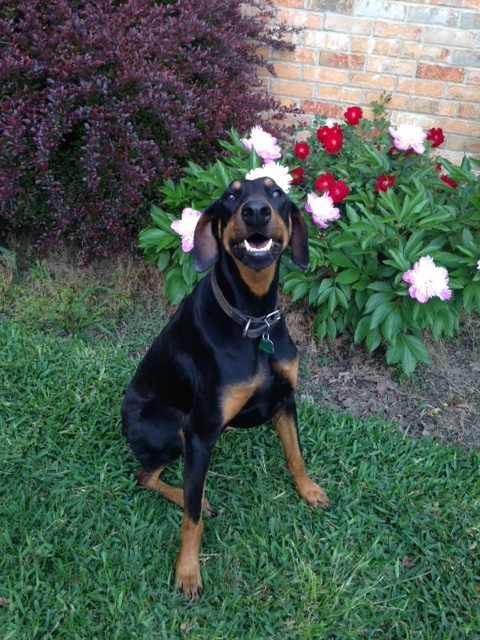 Wendy is a 5 month old Dobie.
She had a urinary tract problem of very frequent urinations. I changed her diet and gave vet prescribed antibiotics for 2 weeks and now she seems to be normal. She also gained 9 lbs in 1 month. I plan to continue the BARF diet.
- Patti J W, Honey Grove, TX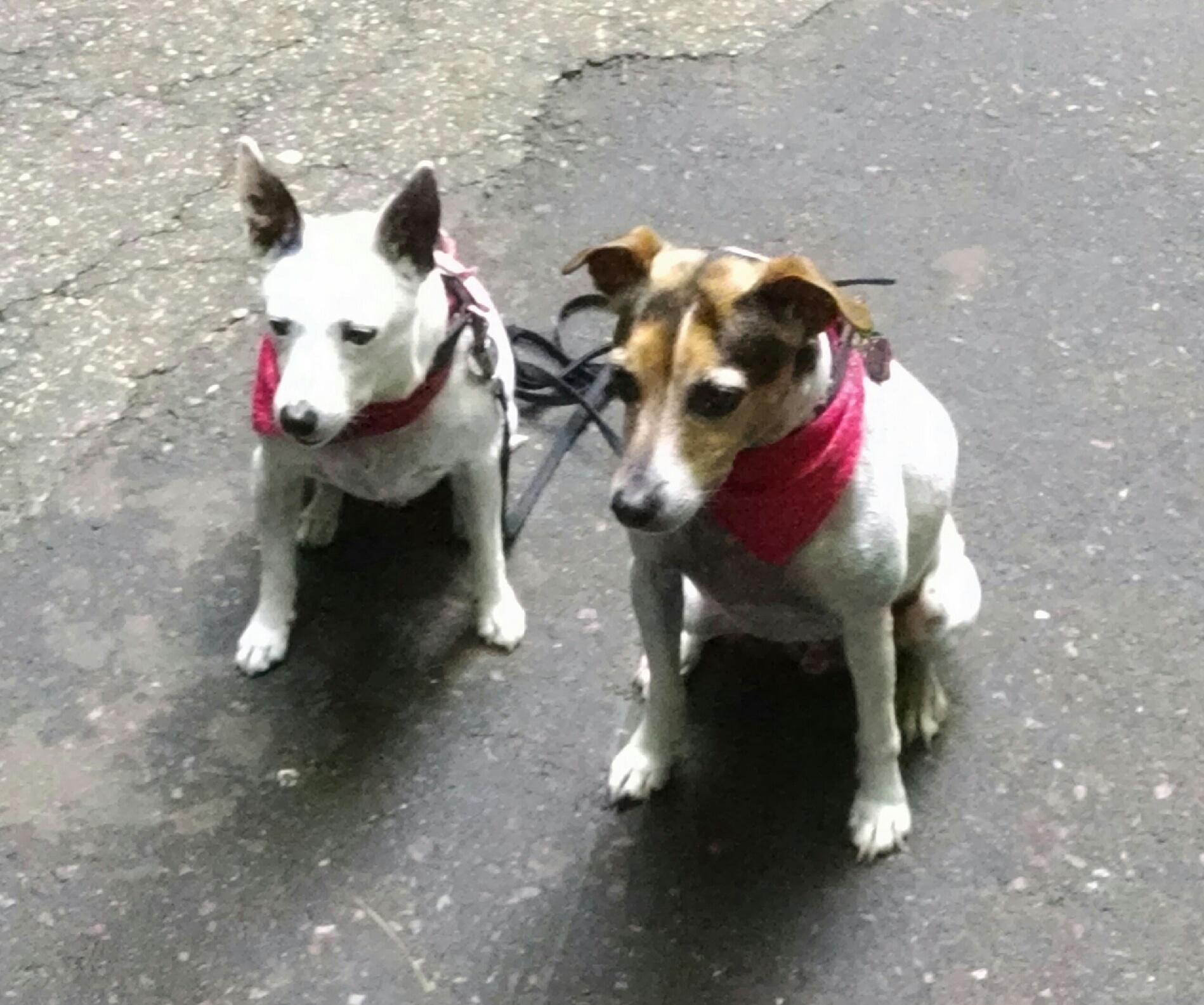 I just want to say THANK YOU to Al, Evan and Rob at BARF World.
I have two dogs. Koda is my fun loving and spunky 10 year old Jack Russell Terrier who loves to be outdoors. Bandit is my 8 1/2 year old Tri-Colored Rat Terrier who loves to cuddle, give kisses and talk to you as he is getting his rub down. Bandit was diagnosed with Lymphoma Cancer in June 2014. Our world changed that day...each day has now been a journey to help Bandit overcome and beat cancer. One stop on our journey was a diet change. I was very skeptical and concerned about feeding raw. I wanted to make sure this change was good for both dogs. Al, Evan and Rob have been very informative, helpful and patient with me on every phone call as I sought answers to every question, doubt and concern that I have had along this journey. I am pleased to say that Koda and Bandit love the BARF food and eagerly await each and every feeding. We are very pleased with the overall health changes and the results this food change journey has given to both Koda and Bandit. This is one stop on our journey that is helping Bandit overcome and beat cancer. THANK YOU BARF WORLD!!!
- Nicole W, Dubuque, IA
Puller has a skin condition and allergies.
He is the reason I switch them over to the BARF diet. I would give him a bath and you would think he is an old man. His hair was really sparse, there were bumps all over his back. After a bath there would be hair and flakes of skin all over. His condition was severe but it a gradually got better and the hair grew back on a raw diet- Now you would think he is a show dog!
- Gary B, Gettysburg, PA
I started my miniature pinscher Nina on a BARF regimen as a puppy of twelve weeks after researching and concluding the BARF diet was superior to the other choices in the pet food industry.Nina is a High energy dog and she benefits deeply from the maximum nutritional content of her diet.
Everyone who encounters her remarks about her shiny coat and beautiful demeanor.
- Michael P, new york city, NY